'Prices Will Skyrocket After Crooked Hillary Gets In': Vegas Gun Shop Posts 'Pre-Hillary Sale' Ad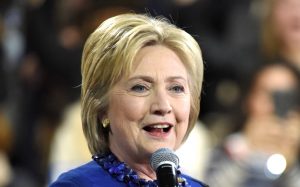 At least in Nevada, it appears that gun shop owners are using the likelihood of Hillary Clinton winning the presidency to spur some business.
With Republican presidential nominee Donald Trump's poll numbers cratering, Westside Armory posted an advertisement in the Las Vegas Review-Journal hyping a "Pre-Hillary Sale," warning prospective customers that "prices will skyrocket" once "Crooked Hillary" is elected.
"Pre-Hillary sale. Don't wait! Prices will skyrocket after Crooked Hillary gets in." Vegas armory ad in Adelson News. Wow! And…surrender? pic.twitter.com/c24FWw99L0

— Jon Ralston (@RalstonReports) October 16, 2016
The armory was previously highlighted by Bloomberg in a profile piece this past February. Writer Paul Barrett spent three days at the shop, noting the following:
"It's been this way for the last seven years," since President Obama got into office, says Mike Moore, Westside's account manager at RSR Group, a large national gun-and-ammunition wholesaler based in Winter Park, Fla. Moore and others in the industry marvel at the staying power of what they call "the Obama surge"—elevated sales driven by the (unfulfilled) fear of tougher federal gun control.

"There's four things selling guns at the moment," says Rocky Fortino, one of Hopkins's employees. "One: 'I'm afraid they're going to make it harder to buy a gun, so I better get one now.' Two: 'I'm afraid of home invasions and other violent crime.' Three: 'I'm afraid of mass shootings.' And four: 'I'm afraid of terrorism.'" On the last concern, Fortino and I agree that Westside Armory doesn't really offer much in the way of antiterrorism weaponry.
The Review-Journal was recently purchased by Sheldon Adelson, a longtime Republican megadonor. His purchase of the paper led to concerns that his political views and business dealings would seep into the publication's coverage.
Currently, Clinton leads Trump in the Real Clear Politics polling average of Nevada by 2.7 points.
[image via screengrab]
–
Follow Justin Baragona on Twitter: @justinbaragona
Have a tip we should know? tips@mediaite.com