Rapper T.I. on Whether Black Lives Matter to Trump: 'Is That a Trick Question?'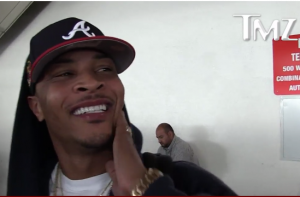 Rapper T.I. is not a fan of Donald Trump, and he made no bones about it at LAX on Monday. TMZ caught up with him as he was getting to his car and asked, "Do you think Black lives matter to Trump?" He laughed and replied, "is that a trick question?" He continued, "absolutely not. I don't think any lives matter to him except for the ones that look, act, and operate like his."
He also said that whatever time Trump wants to go back to when he says he wants to "Make America Great Again" was a bad time for Black people. "You could have slavery, when women couldn't vote…segregation, crack epidemic…all these times in America were all sh*tty times for us."
His feelings have been the same for a long time. In October on SiriusXM's "The Whoolywood Shuffle," hosted by DJ Whoo Kid, he said he wouldn't vote for Trump, though he admires him for being a "showman." However, "His racist remarks and off-color [expletive] makes it impossible to be completely supportive of him."
It's worth nothing that historically, he doesn't like Hillary Clinton either. He faced some backlash when, on that same radio he said
Not to be sexist but, I can't vote for the leader of the free world to be a woman. Every other position that exists, I think a woman could do well. But, the president? It's kinda like, I just know that women make rash decisions emotionally. They make very permanent, cemented decisions. And then later, it's kind of like it didn't happen, or they didn't mean for it to happen. I sure would hate to just set off a nuke.
[image via screen grab, TMZ]
Follow Dana Eisenberg on Twitter.
Have a tip we should know? tips@mediaite.com