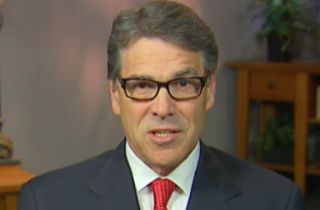 Two years after being indicted by a county prosecutor, former Texas governor Rick Perry has officially been cleared of all charges that he abused the powers of his office.
In 2014, Perry told the Texas legislature that he would veto funding for the state's Public Integrity Unit unless its administrator Rosemary Lehmberg resigned. Lehmberg had been arrested and sentenced to 45 days in jails for drunk driving, but refused to resign her post. After Perry did indeed veto funding, two charges were brought against him by a Travis County prosecutor under the theory that the veto threat was an illegal attempt to "coerce a public servant."
At the time, the charges were widely criticized by conservatives and even many liberals. The New York Times, The Washington Post, The Los Angeles Times, and USA Today all wrote op-eds denouncing the prosecution's case as weak and politically motivated.
Perry's defense argued that the Texas constitution gave him unilateral power to veto funding for any reason, and that prosecuting a veto threat was a violation of the First Amendment. A state appeals court agreed in part in 2015, throwing out the coercion charge as an unconstitutional abridgment of free speech.
The remaining abuse of office charge was thrown out by the Texas Court of Criminal Appeals Wednesday. The court reasoned that government agents make "threats" everyday, such as "a threat by the governor to veto a bill unless it is amended," or "a threat by the attorney general to file a lawsuit." The law used to indict Perry's veto threat was struck down as "unconstitutionally overbroad in violation of the First Amendment."
In interviews, Perry credited the indictment hanging over his head as the reason he had to withdraw so early from the 2016 Republican race. "It had a real corrosive effect on our ability to raise money," he told Fox News after his exit.
[Image via screengrab]
——
>>Follow Alex Griswold (@HashtagGriswold) on Twitter
Have a tip we should know? tips@mediaite.com