There is Now a GoFundMe to Get Incriminating Recordings of Trump from The Apprentice Released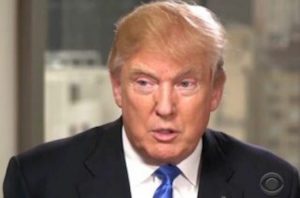 Yesterday, a GoFundMe campaign was started called the Trump Sunlight Campaign. The goal is to raise $5 million, which would cover the penalty fees for releasing damning videos of Donald Trump from The Apprentice. "Someone out there is likely in possession of a piece of evidence that could be used to substantiate what many folks have always believed; that the current nominee for President of the United States is not a moral leader for us all to look to over the next four years," the page says. The campaign was started by Aaron Holman and as of this posting has raised $9,535.
The effort comes on the heels of a tape that was released over the weekend that were incredibly offensive and showed Trump saying, among other things that you have to "grab them by the pussy." There's reason to believe Holman is probably right that there is more evidence against him. Saturday, Bill Pruitt, who was a producer on the first two seasons of the show Tweeted that "there are far worse" tapes with the hashtag #justthebeginning.
Another producer, Chris Nee followed up by Tweeting at Mark Cuban with the price of the penalty, adding that "we all get to hear him use the N word."
@mcuban the price is 5 million to cover the penalty fee. And we all get to hear him use the N word from what I hear https://t.co/IsmJvHHL1K

— Chris Nee (@chrisdocnee) October 9, 2016
In an additional Tweet that has since been deleted, Nee said "I don't have the tapes. I've signed a [Mark] Burnett contract & know leak fee is 5 mill. Hearing from producers/crew N word is the 'much worse.'" Apparently, Mark Burnett, an Apprentice producer and Trump supporter has threatened to sue employees if they leak the tapes.
Holman hopes that if the GoFundMe is successful, someone will be brave enough to leak them.
[image via screen grab]
Follow Dana Eisenberg on Twitter.
Have a tip we should know? tips@mediaite.com