Thousands of People Believe the Answer to the Donald Trump Problem is a Kanye West Run in 2020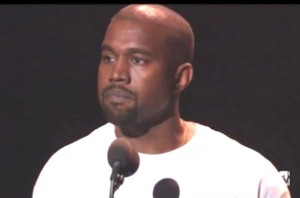 When Kanye West announced he planned to run for President of the United States in 2020 at the 2015 MTV VMAs, everyone took it with a grain of salt. This is Kanye, we're talking about. Since he said it, though, he hasn't totally let it go. In fact, this past August he talked about his political aspirations on Annie Mac's BBC Radio 1 show. He said:
When I talk about the idea of being president, I'm not saying I have any political views. I just have a view on humanity, on people, on the truth. We are numb, we're numb to 500 kids getting killed in Chicago a year, we're numb to the fact that it was seven police shootings in the beginning of July. If there is anything that I can do with my time and my day, to somehow make a difference while I'm alive I'm going to try to do it.
In the wake of last night's historic election, Twitter users are now calling on West to make good on what he said. They believe he is the answer- or at least, an answer- to the problem that is a Donald Trump presidency.
.@kanyewest You still good for that presidential run Ye?

— Christopher Hooton (@ChristophHooton) November 9, 2016
ok….@KanyeWest…..lessgo!!!!!

— Questlove Gomez (@questlove) November 9, 2016
See you in 2020 @kanyewest

— sammy (@pIayboi) November 9, 2016
Remember when we laughed when @kanyewest announced he was running for 2020 but now anything is clearly possible #ElectionNight

— Amie Pollitt △⃒⃘ (@amiescool) November 9, 2016
@kanyewest I have faith in you. Please save America 2020 ??

— ☤SC: aaakxsh (@aakxsh) November 9, 2016
something tells me that kanye west now has a pretty good chance of running for/winning the 2020 election

— chandler riggs (@chandlerriggs) November 9, 2016
I'd rather Kanye west be the president then Trump

— Khaled Albaher (@legendarykid3) November 9, 2016
How's 2020 looking @kanyewest?

— Anonymous (@AnonPress) November 9, 2016
[image via screen grab]
Follow Dana Eisenberg on Twitter.
Have a tip we should know? tips@mediaite.com