Top Bill Clinton Aide Called Chelsea Clinton 'A Spoiled Brat' In 2011 Email Exchange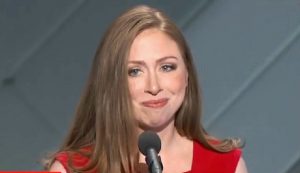 In another WikiLeaks email dump on Monday, it was revealed that a longtime aide to former President Bill Clinton had some very unkind things to say about his boss's daughter.
In a 2011 email exchange between current Hillary Clinton presidential campaign chairman John Podesta and Bill Clinton assistant Doug Band regarding Band's consulting firm Teneo, Band called Chelsea Clinton "a spoiled brat" who has a "lack of focus in her life."
John, I would appreciate your feedback and any suggestions > > I'm also starting to worry that if this story gets out, we are screwed. Dk > and I built a business. 65 people work for us who have wives and husbands > and kids, they all depend on us. Our business has almost nothing to do with > the clintons, the foundation or cgi in any way. The chairman of ubs could > care a less about cgi. Our fund clients who we do restructuring and m and a > advising the same just as bhp nor tivo do. These are real companies who we > provide real advice to through very serious people. Comm head for goldman, > dep press secretary to bloomberg, former head of banking, and his team, from > morgan stanley for asia and latin am. > > I realize it is difficult to confront and reason with her but this could go > to far and then we all will have a real serious set of other problems. > I don't deserve this from her and deserve a tad more respect or at least a > direct dialogue for me to explain these things. She is acting like a spoiled > brat kid who has nothing else to do but create issues to justify what she's > doing because she, as she has said, hasn't found her way and has a lack of > focus in her life. I realize she will be off of this soon but if it doesn't > come soon enough….
(For the record, Chelsea's initials are CVC.)
Another Hillary Clinton aide, Cheryl Mills, was also included in the email exchange.
Band and his firm have come under fire of late as it relates to the Clinton Foundation and the State Department. Politico did an in-depth report on the ties between State, the foundation and Teneo back in August, with eight sources telling the publication that many of the firm's clients received exposure to the Clintons while Hillary was in State.
[image via screengrab]
–
Follow Justin Baragona on Twitter: @justinbaragona
Have a tip we should know? tips@mediaite.com