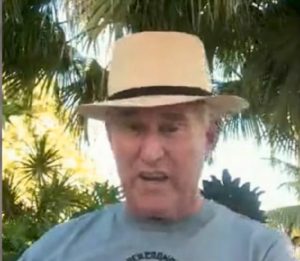 About 90 minutes before Sunday night's presidential debate in St. Louis, Republican candidate Donald Trump trotted out four women in front of the press. Three of the women — Juanita Broaddrick, Paula Jones and Kathleen Willey — have accused ex-President Bill Clinton of various forms of sexual assault and harassment.
The fourth, Kathy Shelton, has become known in recent months due to her past history with Hillary Clinton. When the former Secretary of State was a lawyer, she was tapped to defend Shelton's rapist in a trial. Shelton was 12 years old at the time while her attacker was 41. Trump's supporters have used the case as a way to go after Hillary regarding women's issues and her status as a feminist.
According to a report by the Associated Press, Shelton received $2,500 from a noted Trump ally and former staffer Roger Stone earlier this year.
The May payment to Shelton by the Committee to Restore America's Greatness PAC, founded by Stone, was described as ''contract labor'' in campaign finance reports filed with the Federal Election Commission. Asked by The Associated Press about the reason for the payment, Stone said in an email that Shelton ''was extensively interviewed on video about her experience with Hillary Clinton and was paid for her time.''

Shelton did not respond to a written request for comment left at her home in recent weeks by an AP reporter.

In 1975, Clinton was asked by a judge overseeing the case to represent Shelton's alleged attacker. After the prosecution lost key evidence, Clinton's client entered a plea to a lesser charge. In an interview a decade later, Clinton expressed horror at the crime, but was recorded on tape laughing about procedural details of the case. The audio has been seized on by conservative groups looking to attack Clinton's candidacy.
The AP also noted that Stone has arranged other payment for women critical of the Clintons. He also tried to raise funds to help pay off Willey's mortgage, something the Trump campaign had to deny it was a part of.
[image via screengrab]
–
Follow Justin Baragona on Twitter: @justinbaragona
Have a tip we should know? tips@mediaite.com