Trump Campaign Manager Allegedly Tries to Throw Female Reporter to the Ground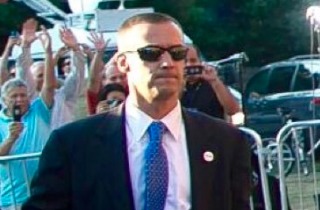 After a late night press conference Tuesday, Donald Trump campaign manager Corey Lewandowski reportedly got physical with Breitbart reporter Michelle Fields, throwing her to the ground.
Her boyfriend, the Daily Caller's Jamie Weinstein, took to Twitter to call out the "thugs" in the Trump campaign.
Trump always surrounds himself w thugs. Tonight thug Corey Lewandowski tried to pull my gf @MichelleFields to ground when she asked tough q

— Jamie Weinstein (@Jamie_Weinstein) March 9, 2016
Politico spoke with another reporter who witnessed the altercation: "Fields was attempting to ask Trump a question as he exited the press conference," they report. "Secret Service was starting to clear a path, when Fields was forcibly grabbed on her arm by Lewandowski, moving her out of the way and nearly bringing her down to the ground." Fields was "clearly roughed up," the witness told Politico.
Breitbart issued a statement demanding an explanation, and giving Fields version of events:
It's obviously unacceptable that someone crossed a line and made physical contact with our reporter. What Michelle has told us directly is that someone "grabbed her arm" and while she did not see who it was, Ben Terris of the Washington Post told her that it was Corey Lewandowski. If that's the case, Corey owes Michelle an immediate apology.
The incident comes a week after a TIME photographer at another Trump rally was choke-slammed to the ground after getting into a verbal confrontation with a secret service agent.
[Image via screengrab]
——
>>Follow Alex Griswold (@HashtagGriswold) on Twitter
Have a tip we should know? tips@mediaite.com