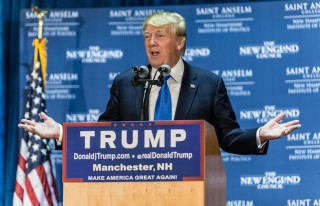 Donald Trump has fielded a lot of criticism for his fundraising figures from May.  Now, he is looking to push back against those who have questioned his campaign's health and its finances. Trump claims that, if necessary, he could have 'unlimited cash' if he decides to sink some of his own money into the campaign.
"If need be, there could be unlimited 'cash on hand' as I would put up my own money, as I have already done through the primaries, spending over $50 million dollars. Our campaign is leaner and more efficient, like our government should be," said Trump, according to the Hill.
Trump's June fundraising report earned heaps of criticism from the media, and has begun to worry some Republicans, who are starting to believe that he may not be serious about the campaign.  Trump's campaign raised only $3.1 million over the past month and has only $1.3 million on hand.  His presumptive opponent, Hillary Clinton, had raised $26.4 million over the same period of time and has $42.5 million on hand.
Trump had the opportunity to start fundraising after he defeated Ted Cruz and John Kasich in the presidential primary back in early May.  Hillary Clinton still had to fight Bernie Sanders for the nomination until being named the presumptive Democratic presidential nominee in early June.
However, Trump does not seemed to be worried by the lackluster fundraising. In a statement, Trump insists that June is the first full month of fundraising for the campaign, and that July's FEC filing should be used as the benchmark rather than June's.
His campaign held its first fundraiser in May and recently began to send out fundraising emails to supporters.  In addition, Trump has just completed some fundraisers in red states like Georgia, Texas and Arizona, raising, according to Trump, around $12 million.
"To date, the campaign's fundraising has been incredible and we continue to see a tremendous outpouring of support for Mr. Trump and money to the Republican Party. The positive response to our fundraising efforts so far is a further indication that the country does not want yet another corrupt politician like Crooked Hillary," the campaign said according to Politico.
Have a tip we should know? tips@mediaite.com