Trump Says Electoral College 'Genius,' But In 2012 He Called It a 'Disaster for a Democracy'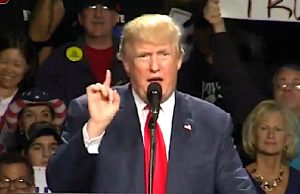 President-elect Donald Trump took to Twitter this morning to declare that he would have won the national popular vote if he had only campaigned in New York and California, claiming that his election victory would have been bigger than what occurred last week.
He also heaped praise on the Electoral College, labeling it as "genius" and stating that it brings all states into play, changing the scope of campaigning.
If the election were based on total popular vote I would have campaigned in N.Y. Florida and California and won even bigger and more easily

— Donald J. Trump (@realDonaldTrump) November 15, 2016
The Electoral College is actually genius in that it brings all states, including the smaller ones, into play. Campaigning is much different!

— Donald J. Trump (@realDonaldTrump) November 15, 2016
Regarding the popular vote tweet, it appears that Trump is pushing back against growing criticism of the fact that he won the election based on narrow swing state wins while losing in overall votes to Hillary Clinton. As of publication, Clinton's lead is now nearly a million votes and continues to expand.
New Jersey: 40k new Clinton votes, 23k Trump. Clinton's popular vote lead now up to 988k (0.8%). https://t.co/j58GaxfPmH

— Dave Wasserman (@Redistrict) November 15, 2016
As far as the Electoral College, Trump's opinion today is a far cry from how he felt in 2012. During the presidential election that year, when it looked like Mitt Romney might defeat Barack Obama in the popular vote while easily losing electorally, Trump sent this tweet.
The electoral college is a disaster for a democracy.

— Donald J. Trump (@realDonaldTrump) November 7, 2012
Trump also called the Electoral College "phoney," reiterated that Obama lost the popular vote by a lot and urged Republicans to march on Washington.
In the end, Obama would win the national popular vote by a significant margin over Romney.
[image via screengrab]
–
Follow Justin Baragona on Twitter: @justinbaragona
Have a tip we should know? [email protected]