Trump Surrogate Walks Away From Mediaite's J.D. Durkin When Asked to Name a Pro-Hillary Media Personality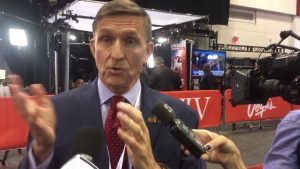 While in Las Vegas tonight, Mediaite's J.D. Durkin ran into Trump adviser and retired lieutenant general Michael Flynn and decided to get his take on the Republican presidential nominee's claim that the mainstream media is heavily biased against him.
Durkin pressed Flynn on the campaign's heavy criticism of the media attention Donald Trump has received, noting that Trump was the beneficiary of more media coverage than any of his opponents during the GOP primary.
Flynn responded that he believed there was a backlash happening in the country among the American people, which did nothing to answer Durkin's question. He also brought up the media's "credibility numbers," which prompted Mother Jones' David Corn to state that neither of the two major party candidates score high in credibility either.
With Flynn saying "if you don't think there's an anti-media bias against Donald Trump you must be sleeping" — that is an exact quote — Durkin jumped in and asked, "Wouldn't you say there are influential conservatives like Sean Hannity who have hourly sided with Donald Trump?"
Flynn snarked that it was "just one guy," leading to both Durkin and Corn to let him know that Hannity is is a major voice and Trump, once again, benefited from media coverage at the beginning of his campaign.
After some back-and-forth, Flynn asked Durkin to name three pro-Trump voices in the media outside of Hannity. Of course, both Durkin and Corn jumped in and named several personalities, such as Eric Bolling, Bill O'reilly, Lou Dobbs and so forth.
Durkin then stated that he doesn't see the same loud pro-Hillary voices in the media and asked Corn to confirm. Asking Flynn to name some who do the same thing hourly like Hannity, the ex-general decided to pack it in, but not before asking Durkin who he worked for (Durkin pointed out that it was Mediaite and reminded Flynn that they had met earlier.)
Watch the clip above.
Also, check out Durkin's interview with David Corn.
[image via screengrab]
–
Follow Justin Baragona on Twitter: @justinbaragona
Have a tip we should know? tips@mediaite.com