Virginia Trump Campaign Chair Fired For Organizing Pro-Trump Protest Outside RNC Headquarters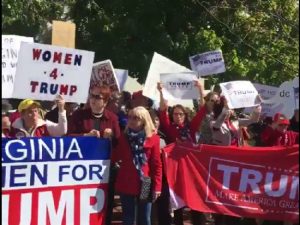 The day after the second presidential debate and coming on the heels of the fallout from GOP presidential nominee Donald Trump's "grab 'em by the pussy" remarks, a pro-Trump protest convened at Republican National Committee headquarters in Washington, D.C.
The organizer of the protest, Virginia Trump campaign chair Corey Stewart, was apparently fired from his position shortly after the it was over.
BREAKING: Trump Virginia campaign chair Corey Stewart fired for organizing protest outside RNC.

— Jeff Goldberg (@abc7jeffg) October 10, 2016
Campaign source with knowledge of the decision confirms to me that Corey Stewart was fired for organizing protest outside RNC today.

— Ali Vitali (@alivitali) October 10, 2016
Stewart was initially unaware of his termination, stating that he is loyal to Trump, not to "political operative."
Trump Virginia chair Corey Stewart hasn't heard about the news yet:

"I'm loyal to him, not loyal to political operatives."

— Teddy Schleifer (@teddyschleifer) October 10, 2016
But, alas, the Trump campaign made it official:
NEW: @realDonaldTrump campaign fires VA state chair for staging "stunt" outside RNC headquarters without campaign's knowledge or approval. pic.twitter.com/Hiq6L8zIgR

— ABC News Politics (@ABCPolitics) October 10, 2016
The Virginia gubernatorial contender came to the GOP presidential nominee's defense over the weekend regarding the Access Hollywood hot mic moment that has sent the Trump campaign into a tailspin.
"When people voted for Donald Trump, they knew he wasn't an angel," Stewart (R-At Large), chairman of the Prince William Board of County Supervisors, told The Washington Post. "They're looking for someone who is going to defend them, someone who's going to bring jobs back, someone who's going to defend their constitutional rights and someone who's going to make America strong again. They are not concerned that at times, Donald Trump acts like a frat boy. Sometimes he does, but that's okay. They know he's not an angel. They know that he can save the country, though."
As for the protest itself, let's just say there were some very interesting signs displayed by the attendees.
HAPPENING NOW: Pro Trump rally in front of the RNC HQ in DC. Unbelievable how ignorant some of the signs are. The GOP must reject this crap! pic.twitter.com/ILSLvkKhZb

— Tara Setmayer (@TaraSetmayer) October 10, 2016
Yep, that one does indeed say "Better to Grab a P***y than to Be One."
And here's a short glimpse of how the rally went down:
Trump supporters chant "Make America Great Again" in protest outside RNC headquarters. pic.twitter.com/YMotE0L1XI

— Jeff Goldberg (@abc7jeffg) October 10, 2016
[image via screengrab]
–
Follow Justin Baragona on Twitter: @justinbaragona
Have a tip we should know? tips@mediaite.com