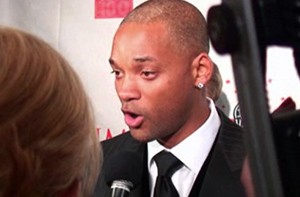 Will Smith is the latest celebrity to take on Donald Trump– specifically, the GOP candidate's attacks on women. In a new interview with news.com/au the Suicide Squad villain says "For a man to be able to publicly refer to a woman as a fat pig, that makes me teary. And for people to applaud, that is absolutely f*cking insanity to me."
Smith is of course referring to Trump's feud with Rosie O'Donnell, whom he's referred to as a "fat pig." He's also tweeted at Arianna Huffington that she's "unattractive both inside and out," and called her a "dog."
.@ariannahuff is unattractive both inside and out. I fully understand why her former husband left her for a man- he made a good decision.

— Donald J. Trump (@realDonaldTrump) August 28, 2012
"@laurasgoldman: .@realDonaldTrump why is it necessary to comment on .@ariannahuff looks? Because she is a dog who wrongfully comments on me

— Donald J. Trump (@realDonaldTrump) April 7, 2015
Other targets of Trump's vitriol include Bette Midler and Megyn Kelly.
Smith continued, "My grandmother would have smacked my teeth out of my head if I had referred to a woman as a fat pig. And I cannot understand how people can clap for that. It's absolutely collective insanity…If one of my sons, I am getting furious just thinking about it, if one of my sons said that in a public place, they couldn't even live in my house anymore."
He is hopeful, however, that we won't elect the former reality TV star. "For me, deep down in my heart, I believe that America won't and we can't (elect Mr Trump)."
Read the full interview here.
Follow Dana Eisenberg on Twitter.
Have a tip we should know? tips@mediaite.com