Candidate Romney Reevaluates Trump: Still No Role Model but 'Exceeded Expectations'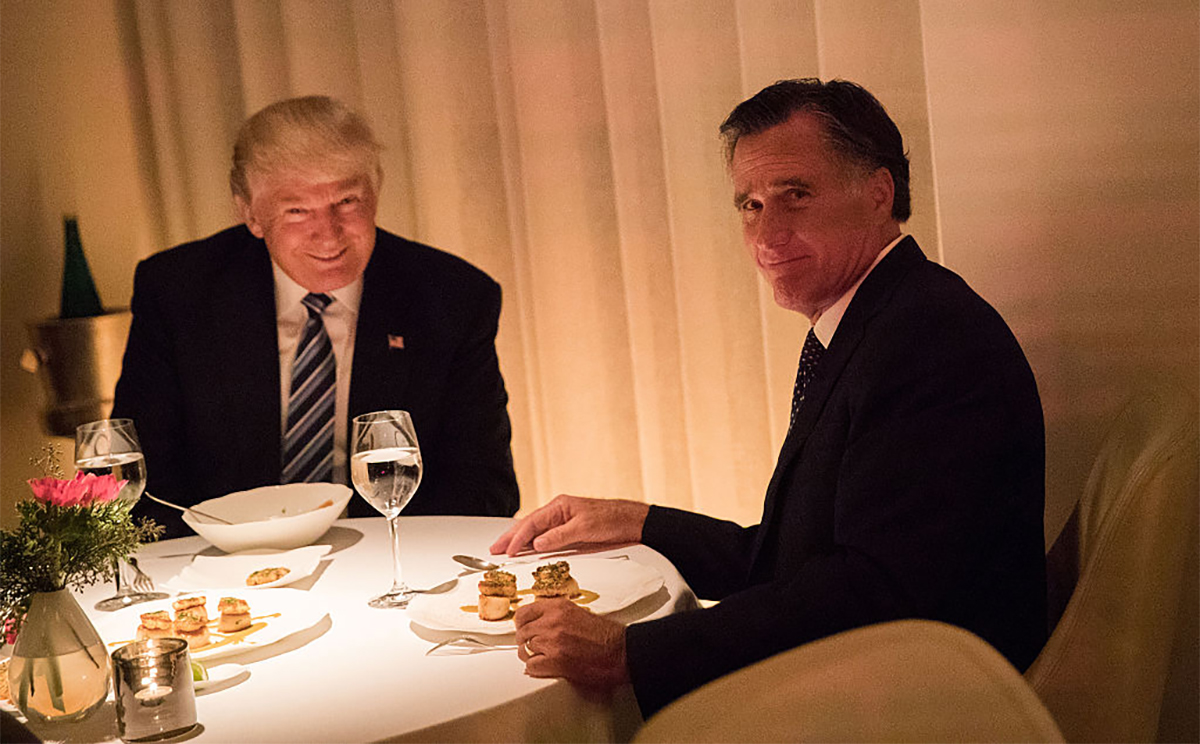 Former Massachusetts Governor, former GOP Presidential Nominee, and former public Donald Trump nemesis Mitt Romney is running for Senate in Utah, and that has changed his tone a bit when it comes to talking about the President.
That's a key takeaway from some of the released transcripts so far coming out of an NBC interview with the candidate on the campaign trail Monday, as Sopan Deb of the New York Times observed on Twitter on Tuesday.
Romney's interview with @GarrettHaake is really something. His rhetoric on Trump — talk about dialing it back!

From "phony," "fraud," "con man," "fake," "dishonest" to "He has departed in some cases from the truth."

Things change when you're running for office! pic.twitter.com/1cC8hfLqvB

— Sopan Deb (@SopanDeb) May 29, 2018
"I don't think I would call him a role model" (remember that phrase) and "departed from truth in some cases" are a pretty far cry from this, a portion of the transcript from his anti-Trump speech from March of 2016.
Here's what I know. Donald Trump is a phony, a fraud. His promises are as worthless as a degree from Trump University.

He's playing the members of the American public for suckers. He gets a free ride to the White House and all we get is a lousy hat.
He also tweeted the comments.
Here's what I know. Donald Trump is a phony, a fraud. His promises are as worthless as a degree from Trump University. (1/2)

— Mitt Romney (@MittRomney) March 3, 2016
Romney was already once the subject of "he's softening on Trump" discussion back when he was seeking the Secretary of State post. He famously had dinner with Trump. After the meal Romney offered his "increasing hope" that Trump was "the very man to lead us".
Here's Romney's full remarks after dinner tonight with Trump pic.twitter.com/ufubPoDrZg

— Jon Passantino (@passantino) November 30, 2016
Still, even while taking it easy on Trump, you can feel the quiet burns.
At a time when journalists are being attacked constantly for doing our jobs, I appreciated this closing remark from @MittRomney – at a public campaign event where I was the only reporter present – a great deal. More tomorrow. pic.twitter.com/HPGshT3yt6

— Garrett Haake (@GarrettHaake) May 29, 2018
This appeal to the integrity of journalism and respect for the First Amendment is hard to read as anything other than a swipe at Trump's war with the media.
He's walking a line. As the Atlantic's McKay Coppins said last year: "Trump's rise was, in fact, one of the contributing factors in Romney's decision to come out of retirement and re-enter the political arena. But he was never going to join the resistance."
It also seems "he's no role model" is becoming a 2018 theme. After Stormy Daniels and [insert other scandal names here], that may be the best moral footing the GOP can find. And considering the evangelical turnout for Trump in 2016, it may just work again this November.
[Featured Photo "President-elect Donald Trump and Mitt Romney dine at Jean Georges restaurant, November 29, 2016." by Drew Angerer/Getty Images]
—
Follow Caleb Howe (@CalebHowe) on Twitter
Have a tip we should know? [email protected]