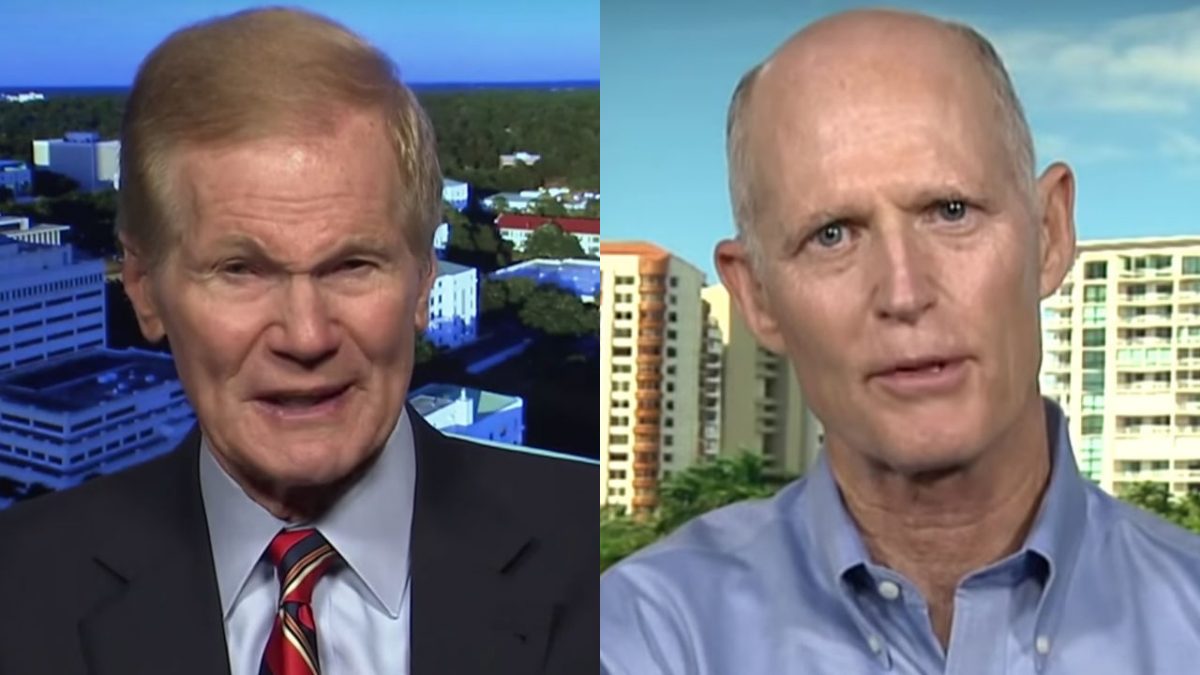 BREAKING 12:02 a.m. ET — Fox News is calling Gov. Rick Scott (R) the winner of his Florida Senate race against incumbent Sen. Bill Nelson (D-FL).
The Fox News Decision Desk can now project that Republican Governor Rick Scott will oust Democratic Senator Bill Nelson from the seat he has occupied for 18 years. https://t.co/tH1ocNmSM1 pic.twitter.com/C0xG91BeLn

— Fox News (@FoxNews) November 7, 2018
The Florida Senate race is a face-off between Democrat Bill Nelson, the incumbent, and Republican Rick Scott, the current governor of Florida.
The latest polls: The race is very, very close. The most recent poll, from the Trafalgar Group, has Scott leading by 2%. The RCP average of all the recent polls has Nelson leading by 2.4%.
What pundits are saying: FiveThirtyEight has the race as leaning Democratic with Nelson having good odds of winning. Still, it's Florida and anything could happen. Politico's Florida Playbook notes there is genuine concern about the "decimation" of the Florida Democratic Party if both Nelson and gubernatorial candidate Andrew Gillum lose.
The race, in brief: The Florida Senate race has not gotten quite as much attention nationally as the gubernatorial race (and there's clearly more enthusiasm for Gillum than for Nelson), but it's still significant. The Democrats are on defense in the Senate, fighting to hold onto seats like this one. Florida went for President Donald Trump in 2016, and the results could be a significant indicator of how much the political winds have changed (or not) in two years.
And speaking of the president, he has taken to Twitter recently to bash Nelson, tweeting just yesterday that Nelson "didn't call me once" in the two years he's been President so far, and he quoted Fox News' Chris Wallace to blast Nelson as an "empty figure in Washington" and a "stiff."
The polls close in Florida at 7 pm ET.
[image via screengrab]
Have a tip we should know? tips@mediaite.com