Rudy Giuliani Says Quiet Part Out Loud (Again), About Ukraine Hit on Biden: 'We're Meddling in an Investigation'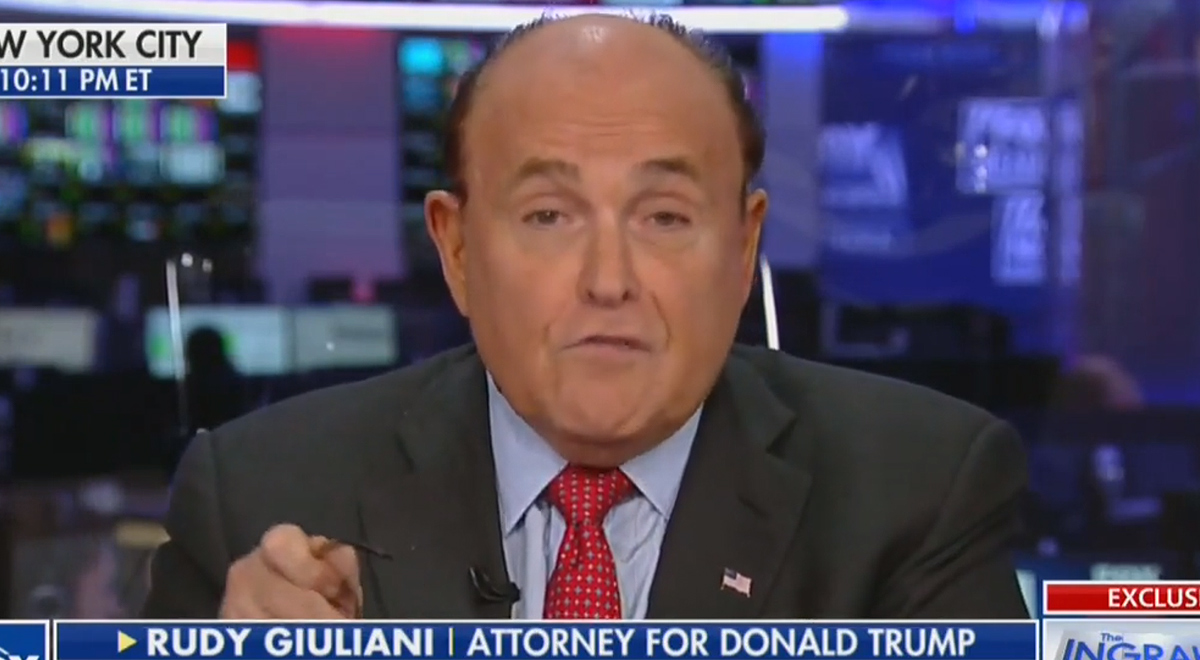 Rudy Giuliani's media campaign to impugn the Mueller report, implicate the Clintons in foreign collusion, and tar potential 2020 rival Joe Biden as corrupt was laid bare in a New York Times exposé on Thursday.
Telling the paper, "We're not meddling in an election, we're meddling in an investigation, which we have a right to do," Giuliani acknowledged he will soon be traveling to Ukraine to talk to investigators in that country to encourage them to look into origins of the Mueller report as well as links between Hunter Biden, the former Vice President's son, and a gas company owned by a wealthy Ukrainian.
"There's nothing illegal about it," Giuliani told the Times of his planned trip to meet with officials from the newly elected government of Ukraine. "Somebody could say it's improper. And this isn't foreign policy — I'm asking them to do an investigation that they're doing already and that other people are telling them to stop. And I'm going to give them reasons why they shouldn't stop it because that information will be very, very helpful to my client, and may turn out to be helpful to my government."
The newspaper's report on Giuliani's behind-the-scenes machination offers a rare look at how the political oppo sausage gets made, and how he is acting as a political fixer for President Donald Trump's 2020 reelection effort. Though the White House refused comment for the Times story, Giuliani, in his inimitable style, said he is acting with the full support of his client. "He basically knows what I'm doing, sure, as his lawyer."
On Fox News' The Ingraham Angle Thursday night, host Laura Ingraham had Giuliani on as a guest to both talk up his scandal narrative against Biden — which, Bloomberg reports, has already been debunked by at least one Ukrainian official – and then dismiss the Times report, without bothering to share any of its details, or her guest's self-incriminating quotes, with her viewers.
"Just in the last hour, it gets better," Ingraham said, in a mocking tone. "The New York Times posted this story online, quote: 'Giuliani plans Ukraine trip to push for inquiries that could help Trump.' Ooooh, like you are not allowed to travel, apparently, Rudy."
Giuliani's response? To return to the White House's fabulist counter-narrative, which implicates almost everyone else in the 2016 election as being guilty of the "real" conspiracy: "This was a massive collusion between the Democratic National Committee, officials of the Obama Administration, Clinton people, and the Ukrainian officials, corrupt officials — who by the way were pro-Russian corrupt officials. To create false information about Trump, about [Paul] Manafort. This is real — not collusion, conspiracy to present false information, and to leak it to the press, and to give it to the FBI."
Watch video above, via Fox News
[Screenshot via Fox News]
Have a tip we should know? tips@mediaite.com