Adele Will Not Play The Super Bowl: 'Come on, That Show Is Not About Music'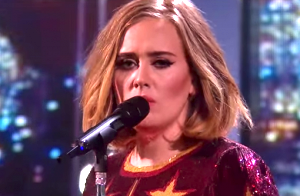 Last week, rumor had it that Adele was going to perform in the 2017 Super Bowl Halftime Show. The Sun reported that the people in charge were trying "desperately" to get her to play but that her nerves might get in the way. The singer is open about her stage fright.
According to the Times she did say no to doing the show, but it's more of a lack of interest than her nerves that are getting in the way. At a show in Los Angeles, she said "I am not doing the Super Bowl. I mean, come on, that show is not about music. I can't dance or anything like that. They were very kind; they did ask me, but I did say no."
Both the NFL and Pepsi, its sponsor have a different story. In a joint statement, they said "We have had conversations with several artists about the Pepsi Super Bowl half-time Show. However, we have not at this point extended a formal offer to Adele or anyone else."
While it's easy to get angry about the fact that we won't get to see Adele grace our television screens in February, we should cut her some slack. The singer is having a tough time, as she recently had to give up pizza in order to save her voice. According to The Daily Star, she said "I can't eat pizza anymore guys, how bad is that?" Really, really bad. Our hearts are with her during this difficult time. She continued, "Because it's got cooked tomatoes on it which are bad for your throat and give you acid reflux. How bad is that, that I can't eat pizza, can you get over that?"
Adele has got a lot going on. Hopefully we'll be able to see her perform live soon. We also wish the best for her and pizza in the future.
[image via screen grab]
[H/T The Times, Eater, Daily Star]
Follow Dana Eisenberg on Twitter.
Have a tip we should know? tips@mediaite.com