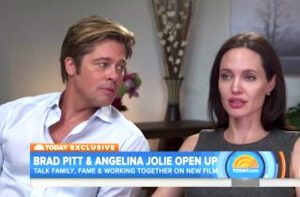 According to a report from People, Brad Pitt was "wrecked" when Angelina Jolie told him she wanted a divorce. Though he knew they were having issues, he had hoped that they could slow things down for the sake of their children, and when she came to him with her plans a few days before the split was announced, he tried to get her to do things differently.
A source told the magazine, "She sat down, talked to Brad and offered to file [for divorce] together… She said, 'This is what I'd like to do.' She explained everything. Angelina did what she felt she needed to do."
Supposedly, he "was appealing to her to do this quietly- not to save the marriage but to consider the well-being of the children-  and it was ignored."
He asked her to "press pause," so that he could "try to figure out how to make things better" for the six children they share. He knew that news of their split was going to cause a massive reaction from the public, and he wanted to try to protect his children as best he could. The source said ,"He was willing to do anything, change any habit, change any lifestyle, to do what had to be done to make this work… And by 'make this work,' that means doing what has to be done to make even a split one that is amicable and in the best interests of the children"
Jolie has asked for sole physical custody of the children, and it's been reported that Pitt is under investigation by the LAPD for child abuse, though the police department has denied those claims. According to sources, Pitt wants shared custody.
[featured image via screen grab/NBC]
[H/T People]
Follow Dana Eisenberg on Twitter.
Have a tip we should know? tips@mediaite.com