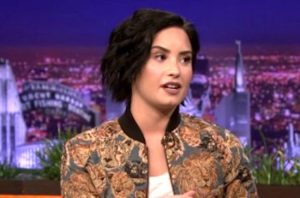 In a recent interview with Glamour, Demi Lovato called out Taylor Swift for her feminism. Specifically, she accused her of claiming she's a feminist, but not actually "doing the work" to be one.
When asked what Lovato does that's different, she answered, "Just speaking out. I'm not afraid to talk about the fact that women get paid less than men in the United States and how unfair that is. Talking about it at all is doing the work." She continued, "I think in certain situations, certain people could be doing more if they're going to claim that as part of their brand. To be honest, and this will probably get me in trouble, I don't see anybody in any sort of squad that has a normal body. It's kind of this false image of what people should look like. And what they should be like, and it's not real."
It doesn't take a genius to figure out who "certain people" is referring to. She added "I think that having a song and a video about tearing Katy Perry down, that's not women's empowerment. We all do things that aren't, but I have to ask myself, Am I content with calling myself a feminist? Yes, because I speak out."
Swift has great fans, and a lot of them. They weren't happy, and they spoke out on Twitter.
@ddlovato You have to tear Taylor down because you're envious she's relevant while you're a flop

— Ary? (@we_areforbidden) October 4, 2016
@ddlovato I love you but "shading" other artists isn't women empowerment either. sometimes it's best if we only mind our own business

— matilde (@ehlizas) October 4, 2016
Sorry, but Demi isn't sorry. She responded with Tweets of her own.
I get asked questions. I answer them. Sue me.

— Demi Lovato (@ddlovato) October 4, 2016
I don't understand why people care so much about what I say in interviews? Do y'all watch the news? Don't y'all got shit to worry about?

— Demi Lovato (@ddlovato) October 4, 2016
Also don't forget that words can be taken out of context when doing interviews.. still not apologizing for saying what everyone want to say

— Demi Lovato (@ddlovato) October 4, 2016
Lovato isn't the first celebrity to bring Swift to task. Earlier this year, Pretty Little Liars' Troian Bellesario blasted her for what she called "false feminism."
[image via screen grab/NBC]
[H/T Huffington Post]
Follow Dana Eisenberg on Twitter.
Have a tip we should know? tips@mediaite.com