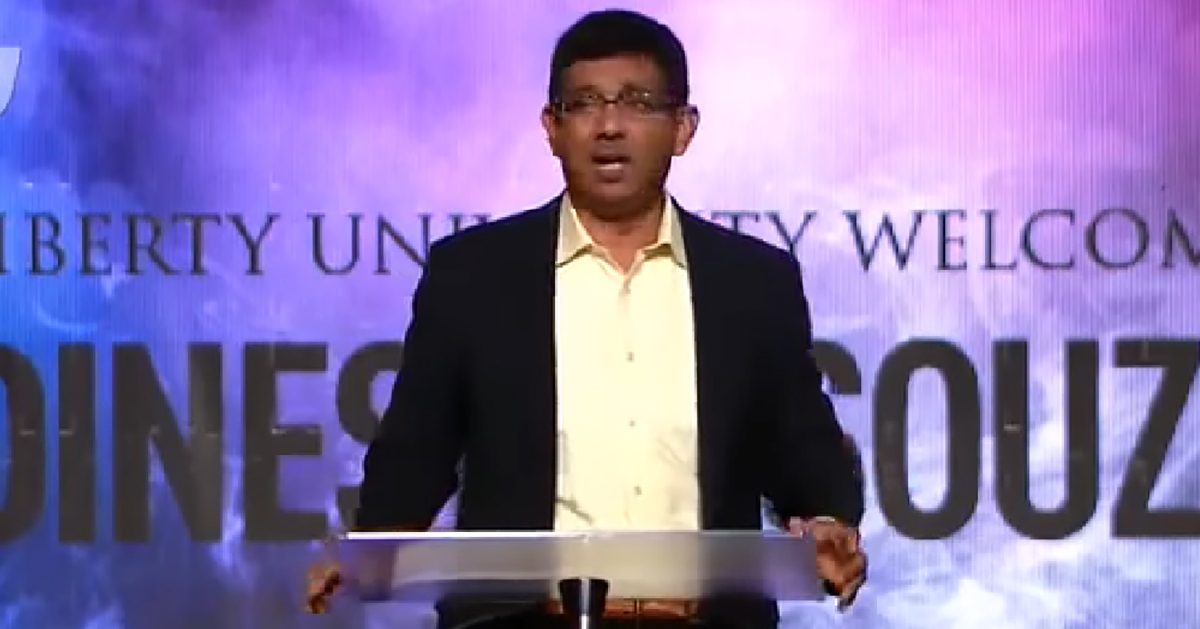 Fresh off a presidential pardon, right-wing author and filmmaker Dinesh D'Souza is teasing his next project, which is — surprise, surprise — a pro-Donald Trump movie titled Death of a Nation coming to theaters on August 12.
D'Souza, who — aside from his historically inaccurate movies — is known for describing Barack Obama  as "ghetto" and a "gay Muslim", comparing Michelle Obama to a man, and for mocking children who survived a mass shooting, was pardoned by Trump last week for pleading guilty to the illegal use of straw donors in a 2014 New York State Senate campaign.
However, D'Souza is already playing defense against those who suggest his upcoming pro-Trump film has anything to do with Trump pardoning him.
"We've been working on the film for more than a year and commissioned the artwork two months ago. Trump had no inkling of the art or the theme of the movie when he pardoned me," D'Souza said to the Hollywood Reporter. "The left is screaming about my pardon more than all of Trump's other pardons put together."
As for the movie itself, it apparently attempts to draw a comparison between Trump — the president who defended the neo-Nazis in Charlottesville as "very fine people," promoted the racist Obama "birther" conspiracy, and has been endorsed by white supremacists everywhere — and Abraham Lincoln. You know, the president best known for abolishing slavery in America.
Dinesh D'Souza to compare Trump with Lincoln in upcoming film https://t.co/1PXrEYdUs2 pic.twitter.com/XybJJBNAmI

— Hollywood Reporter (@THR) June 11, 2018
D'Souza's other recent works attempt to draw a convoluted, conspiratorial link between modern day Democrats and the KKK or other racist movements in America — part of his broader attempt to argue that Democrats are the REAL racists! and Republicans are anti-racist crusaders.
Obviously, this upcoming work looks to continue pushing that theory, given its poster that presents Trump and Lincoln as two halves of the same face and features Civil War-era imagery.
As if that poster wasn't on the nose enough, the title of the film is a real giveaway, as it's a clear callback to the 1915 film The Birth of a Nation, a Civil War-based drama that heavily romanticizes the birth of the Ku Klux Klan as a supposed force for good. D'Souza calls this provocative rather than inflammatory.
"'Death of a Nation' draws a provocative analogy between Lincoln and Trump," D'Souza said regarding the upcoming film, which already looks like his worst one yet. "Not that they're the same people, but that they've fallen into the same situation. Not since 1865 have Democrats so dramatically refused to accept the outcome of a presidential election."
Of course, this all comes from the same guy who thinks liberals "staged" last year's Charlottesville white supremacist rally, so the absurdity of his next film should come as a surprise to no one.
[image via screengrab]
Follow the author on Twitter (@calebecarma).
Have a tip we should know? [email protected]
---