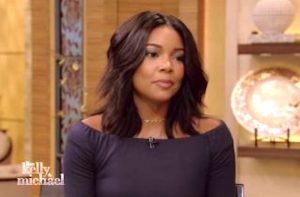 Much of the attention directed at Gabrielle Union's latest project The Birth of a Nation has not been on the movie, but on its writer/director/star, Nate Parker. In 1999, Parker was charged with rape, though he was acquitted. There are a ton of questions surrounding the controversy, and Parker has admitted he did not have verbal consent.
Union is a rape survivor herself, and has been vocal about the allegations. In an op-ed for the Los Angeles Times, she wrote about her own story and addressed the controversy.
As important and ground-breaking as this film is, I cannot take these allegations lightly. On that night, 17-odd years ago, did Nate have his date's consent? It's very possible he thought he did. Yet by his own admission he did not have verbal affirmation; and even if she never said 'no,' silence certainly does not equal 'yes.' Although it's often difficult to read and understand body language, the fact that some individuals interpret the absence of a 'no' as a 'yes' is problematic at least, criminal at worst.
The movie will be released nationwide next week, and many people believe that feminists should boycott the film. In an interview with XoNecole, Union says she won't and explains, "My role in the film and the reason I signed on was to talk about sexual violence. So it feels ass backwards to shirk that responsibility when the controversy swirling around our film is around sexual violence so who better to speak on it than me?"
The film is, of course, loosely based on the story of Nat Turner, a slave who led a rebellion in 1831, and in addition to theme of sexual violence, Union believes it's important to talk about racial inequality as well.
She says that her co-stars including Armie Hammer, Penelope Ann Miller, and Jackie Earle Haley "are definitely aware of white privilege is."
Union continued, "Now how aware they are of their own privilege, I don't know because that comes with consistent behavior modification… We will see on their next film if they're still talking about the necessity of addressing oppression and racial inequality."
She said that she has spoken to members of her team, co-stars, and crew members she works with, and she is surprised "to see that so many people are so resistant to the idea of oppression in America. They think you can just pull yourself up by the bootstraps and work hard enough to achieve the American Dream."
Then, Union brought up Lena Dunham and her recent harsh words about and subsequent apology to Odell Beckham Jr. She says that she's spoken to her, and that she "would love to talk to Kate Upton and Amy Schumer. Maybe I can help to explain the oppressive systems that have benefited and allowed them to say these careless, insensitive and offensive things. Those conversations are awkward as f*ck and they get heated. Similar to watching people have conversations about consent."
Union is referring to Upton's recent condemnation of athletes kneeling during the national anthem, and a now-deleted Tweet from Schumer earlier this month perpetuating the idea that men of color catcall women more than white men do.
[image via screen grab/ABC]
[H/T Entertainment Tonight]
Follow Dana Eisenberg on Twitter.
Have a tip we should know? tips@mediaite.com