Kanye West Threatens Critics: 'I Will F*cking Laser You With Alien F*cking Eyes'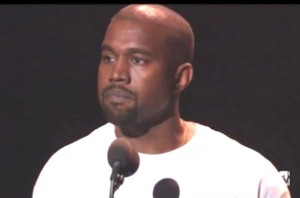 If you haven't already heard, the debut of Yeezy Season 4 didn't exactly go well. He started his show two hours late simply because he felt like it, models fainted and no one was there to help them, and simply put, people were pissed off.
Shocking absolutely no one, Kanye West proved on Thursday that he does not take criticism well. In an interview with W Magazine he slammed critics of his fashion line, and threatened them with punishment that we can only describe as being "out of this world."
I refuse people who write me off as some rich kid taking a hobby, fashion as a f*cking hobby or a fashion plate. How could you even dare to think that, that you're on the same level of this, blah, blah, blah? And the entire time,no one, um – very few people even knew that I have a f*cking Ph.D. in art, you know? And not that that would even make the difference, but me saying that makes the difference to the exact people I'm talking to it's, like, shut the f*ck up. I will f*cking laser you with alien f*cking eyes and explode your f*cking head. Shut the f*ck up – try to write a rap. Okay then. I made this f*cking T-shirt, now shut up.
We're not entirely sure what that means, and when he tried to explain himself, things only got murkier. He compared himself to Penelope from Wreck-It Ralph, and to Will Ferrell's character Buddy from Elf.
He also has an interesting definition for success. He told the mag, "My definition of success is dropping a Charlie Sheen-level tweet and being like, 'I am in debt and fuck you.' Now what?"
We're not totally sure.
[image via screen grab/MTV]
[H/T Us Weekly]
Follow Dana Eisenberg on Twitter.
Have a tip we should know? tips@mediaite.com