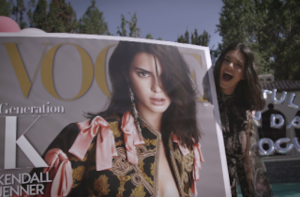 Kendall Jenner is on the cover of the September issue of Vogue. In the interview she talked about what it means to be the "breakout model of her generation," and her family, because how can you not?  The conversation, of course turned to Caitlyn Jenner.
We already know that Caitlyn has always in many ways been Caitlyn, and since she revealed who she is we've learned that through the years there were people who knew, and that members of her family may have had an inkling. Jenner said, "But obviously it's strange having your dad, who was so male, completely reverse. It is definitely a gnarly experience. But my whole life we would, like, catch her, and we would be like, What is going on here? I think we know, but do we?"
They said they would find makeup and nail polish occasionally, and for a little they thought Bruce might be having an affair. She said though, that one morning she knew for sure. "I woke up at 4:00 a.m. so thirsty, came downstairs into the kitchen, and grabbed a bottle of water. And as I was coming back out, my dad was coming down the stairs in, like, a wig and makeup and shoes—the full nine. And she didn't see me. I literally froze." She added, "My mom knew. She knew since their third date."
In Linda Thompson's memoir that she released to People this week, she reveals she also knew, because Caitlyn considered getting a sex change in the 80s. But things are complicated, so the two went to therapy together and she kept the secret for many years.
Jenner's vogue cover is important because of her own unlikely journey. No one thought a member of the Kardashian Klan could become a serious high-fashion model, but Kendall has done it, and with it she paved the way for an entirely new kind of model to rise. Gigi Hadid is also in this category, and it's awesome. As Cindy Crawford said, "They're killing it."
Watch this video the Kardashians made to promote the issue:
Find the rest of the interview here.
[image via screen grab]
[H/T Huffington Post]
Follow Dana Eisenberg on Twitter.
Have a tip we should know? tips@mediaite.com