Leah Remini Reveals She Once Called CBS Asking Them to Squash a Scientology Story at Tom Cruise's Request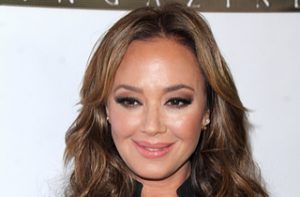 Leah Remini's new show, Leah Remini: Scientology and the Aftermath premieres tonight on A&E, but getting the show to air wasn't the easiest process. Remini spoke with The Hollywood Reporter in advance of the first episode.
Over the last few months, the church has been trying to stop Remini's series from seeing the light of day. Remini, A&E, and its parent company ABC have all reportedly received letters attacking them- but Remini says that A&E never indicated that they might pull the show. In fact, she praises the network for being "dedicated" to making the "ballsy" series.
She discussed abuses within the Church, and how seeing it led to her decision to make the series. Yesterday, she told Savannah Guthrie that when she sees bullying, she's going to fight it. She expressed the same sentiment in this interview. "I can't just sit by and watch that happen. I've seen it. I've witnessed a lot of what they're saying. I'm going to stand up with them. And if it's the church or another bully, and I'm passionate about it, I'm going to do something about it if I can. I'm blessed to have a voice and I'm going to use it," she said.
Her relationships with other famous Scientologists, including Tom Cruise came up. During the interview, she revealed that he once had her call up Les Moonves to try to stop a 60 Minutes segment from airing. She said, "I called Les Moonves, even though I was really uncomfortable with it. And he said, 'Listen — you're not the only one who has called me about this and I have no right to interject my opinion of what I like or don't like with the news organization of CBS and I will absolutely not engage this conversation.'"
She told The Hollywood Reporter that despite her efforts, the Church wasn't happy with her because she couldn't use her King of Queens influence to do more about it.
Leah Remini: Scientology and the Aftermath premieres tonight on A&E at 10:00pm EST.
[image via Helga Esteb / Shutterstock.com]
Have a tip we should know? tips@mediaite.com