LISTEN: Beto O'Rourke's First Album Springs Up Online. It's Pretty Damn Good.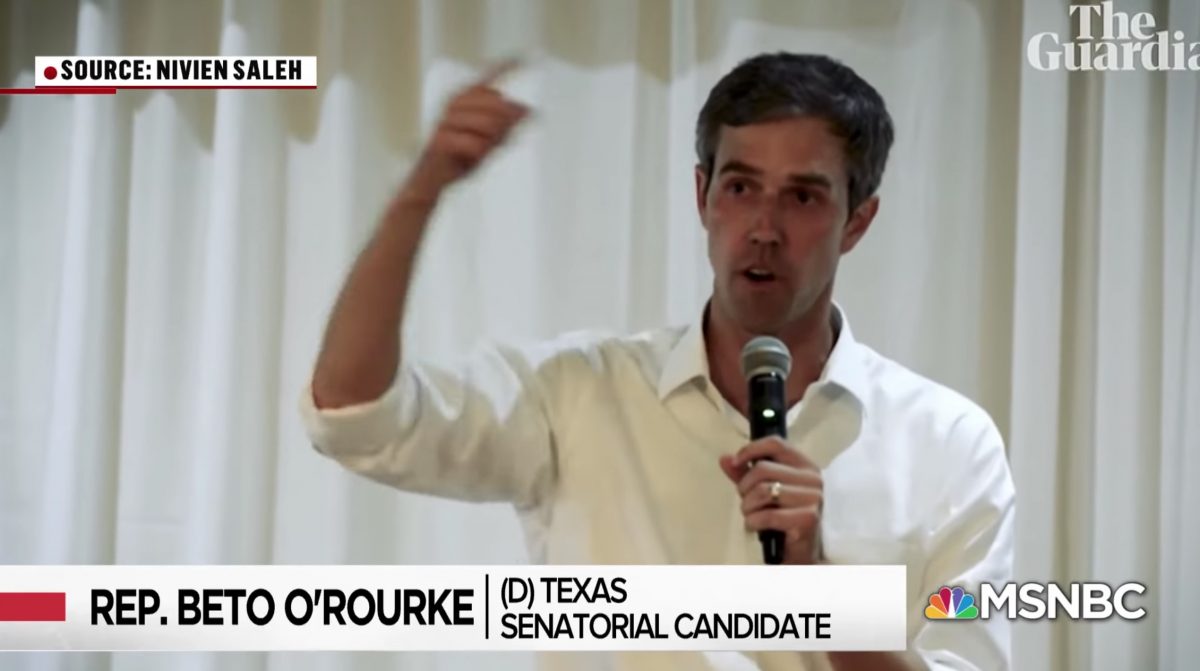 In an effort to knock Beto O'Rourke, Texas' Republican party has been reminding voters that the Democratic Senatorial candidate once played bass in a punk rock band, the El Paso outfit Foss.
On Wednesday, the state party tweeted a picture featuring O'Rourke in a dress alongside Cedric Bixler-Zavala, who went on to sing for the post-hardcore band At The Drive In as well as experimental outfit The Mars Volta.
Maybe Beto can't debate Ted Cruz because he already had plans… pic.twitter.com/LdqKTh3yK4

— Texas GOP (@TexasGOP) August 28, 2018
The picture didn't seem to have the desired effect.
Instead of serving as a warning against O'Rourke, the band's picture went viral as evidence that the Democratic Congressman is simply cooler than Ted Cruz and, frankly, always has been.
Like, a lot cooler.
here's what ted cruz and beto o'rourke were doing to unwind during roughly the same period pic.twitter.com/yxsXGaaF0y

— Ashley Feinberg (@ashleyfeinberg) August 29, 2018
Lost in the drama, however, is a key question: Was O'Rourke's band any good?
Until this week, the sole Foss recording to make the rounds on social media has been a fuzzy, chaotic cable access appearance.
As Lachlan Markay from the Daily Beast put it, it's awful.
I think it's great that Beto O'Rourke was in a punk band, but it'd be cooler if they weren't awful https://t.co/lYFV4COK2E

— Lachlan Markay (@lachlan) August 29, 2018
Better recordings of Foss were hard to come by. They're not on Spotify and are a rare find on record auction sites.
A MySpace page uncovered by some online sleuths also appears to be disabled.
I was able to get a copy of their recordings through the archives of the punk zine Maximum Rocknroll, but most mainstream politicos probably aren't too plugged into the zine world.
O'Rourke shared the most polished song from Foss' first EP with Rolling Stone, but it didn't really capture the full essence of the band.
Pitchfork also unearthed a 1995 recording of O'Rourke playing for The Swedes.
On Friday, however, Bixler-Zavala finally put the issue to rest.
The Mars Volta frontman gave a digitized copy of their full 1993 debut, the El Paso Pussycats to Remezcla, a Latin subculture blog.
It's pretty damn good, assuming, you know, you like punk rock.
First, like all things recorded onto 7-inch vinyl, it's short. The first side tops out at just over 2 minutes, which is impressive since that fits in three songs. As for the B-side, it's one track that stretches for about 5 minutes and 45 seconds.
Second, if you're looking for opposition research, this doesn't offer much, largely because the lyrics are charmingly indecipherable. There's an F-bomb or two, but if there's anything explosive or revealing of any long-concealed radical politics, you won't be able to tell.
Still, imagining Texas Republicans spending Labor Day weekend playing the EP on repeat in an attempt to glean some kind of damaging information to follow up on the Houston Chronicle's report of O'Rourke's drunk driving arrest is a fun visual.
For some reason, I don't think they'll enjoy it as much as me.
Have a tip we should know? tips@mediaite.com