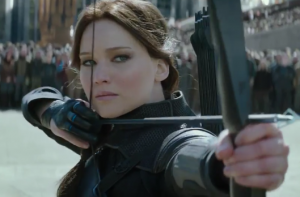 Today, Forbes released its list of the 10 highest-paid actresses in the world. For the second year in a row, Jennifer Lawrence tops the list. Over 12 months, the star of the Hunger Games franchise raked in $46 million pretax. A lot of her earnings comes from her final performance as Katniss Everdeen as well as a big advance for the upcoming Passengers, which also stars Chris Pratt. While she earned less money than she did last year, it was enough for her to maintain the top spot on the list…by a lot.
She earned $13 million more than Melissa McCarthy, who ranked second on this year's list. She earned $33 million before taxes, largely in part to a big pay day from the Ghostbusters reboot. McCarthy had her biggest year to date- she made $10 million more this year than she did last year. Scarlett Johansson came in third, having earned $25 million. Also on the list are Jennifer Aniston ($21 million), Chinese actress Fan Bingbing ($17 million), Charlize Theron ($16.5 million), Amy Adams ($13.5 million), Julia Roberts ($12 million), Mila Kunis ($11 million), and Bollywood actress Deepika Padukone ($10 million).
While each of these women had an incredibly impressive year, Forbes noted that the pay gap between men and women in Hollywood is still huge. The list of highest-paid actors is not out yet, but the magazine noted that four of the women on the list made more than $20 million last year, compared with 18 leading men. Forbes also mentions the fact that many actresses supplement their incomes from movies with endorsements. Aniston, for example has deals with Aveeno, Smartwater, Emirates airlines, and Living Proof.
On Thursday, the magazine will release the list for top-paid actors.
Follow Dana Eisenberg on Twitter.
Have a tip we should know? tips@mediaite.com