Samantha Bee Shares How Her 'Not Whitehouse Correspondents Dinner' Came to Be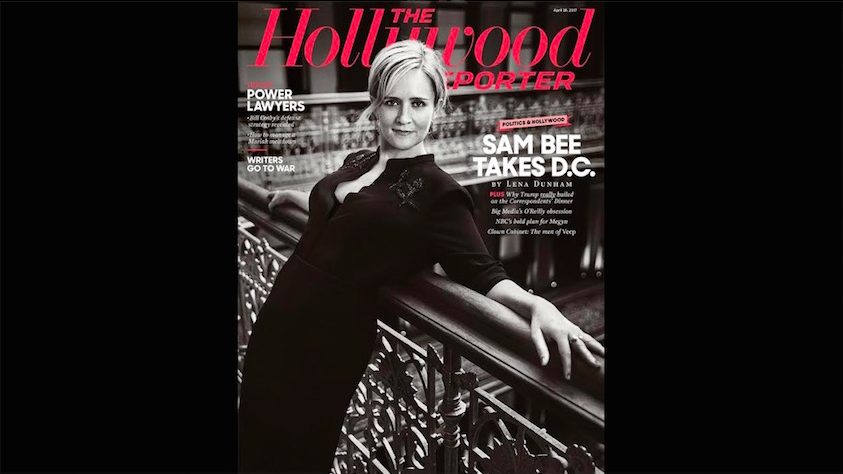 For the newest issue of The Hollywood Reporter, Samantha Bee and Lena Dunham sat down to talk about the election, the world, and Bee's upcoming "Not the White House Correspondents Dinner" special.
In the age of President Donald Trump, Full Frontal has become, as THR puts it, "a tragicomic feminist primal scream." Currently, 4.3 million people watch every episode, and, as Dunham put it, she's the person in late night who "sticks it to the man harder than anyone else." Segments of her show frequently go viral, and there's no question she's made her mark on late night.
Since Trump's victory, her show has changed. While there's lots of talk about Trump being a "dream" for comedians, Bee says that lately, writing her show has been more difficult. "The news is changing so quickly, you think that the show's going to look one way on a Monday morning, and by Tuesday afternoon, the whole world has shifted, and everything is different, and you can't tell that story anymore, or everything has just moved on and no one would care." She added, "Every time I turn my phone off, something terrible happens in the world. It's insane."
The inspiration for her event, which is also a fundraiser for the Committee to Protect Journalists came after the election.
"We were broken," Bee said. "It was very emotional, especially at the beginning. And we kept coming back to this conversation of, 'OK, how are we going to do this show going forward? We're so unhappy. We're just really unhappy, and we have to make a comedy show.'"
She also revealed that Newt Gingrich is, in part, responsible for the special's happening. She told Dunham that he had questioned whether a White House press corps is actually necessary.
"Our minds wandered to the [White House Correspondents'] Dinner," she said. "And we were like, 'I wonder if it's even going to happen. Would [Trump] even show up for it? He's marginalizing people. He's going to abolish the White House press corps, perhaps. Who even knows?' And we were like, 'I don't think the dinner's going to happen. Why don't we have a dinner just to make sure something happens on the night?'"
Bee's special airs at 10:00pm on April 29th. For the full interview, head over to The Hollywood Reporter.
[featured image via The Hollywood Reporter]
Have a tip we should know? tips@mediaite.com