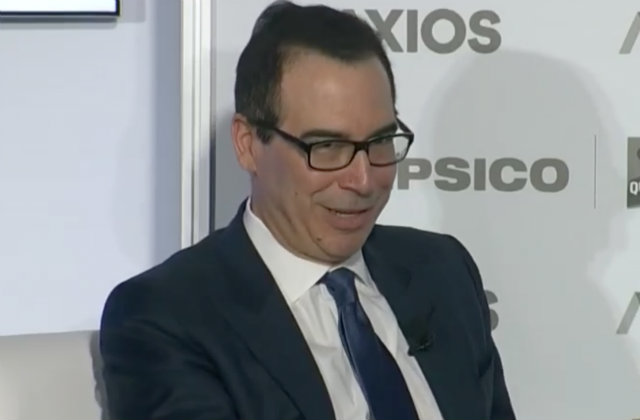 Last week, during an interview with Axios, Treasury Secretary Steven Mnuchin was asked, seemingly in jest, for a movie recommendation. "I'm not allowed to promote anything that I'm involved in. So I just want to have the legal disclosure, you've asked me the question, and I am not promoting any product," Mnuchin replied. After a beat, he said that "you should send all your kids to 'LEGO Batman,'" which he produced.
Bad idea.
Senator Ron Wyden and various ethics watchdogs started calling for an investigation. To calm the situation down, Mnuchin walked back the comment in a letter to the Office of Government Ethics, according to NBC News and Politico. "Although I included a disclaimer indicating that it was not my intention to promote any product, I ended my response to that light-hearted question with words that could reasonably have been interpreted to encourage the questioner to see a film with which I was associated," Mnuchin wrote. "I should not have made that statement."
A Treasury spokesman followed up with this statement to NBC News:
The Secretary's responses were made in jest and not intended to be a product endorsement of the Lego Batman movie. We think that's clear in context.
[Photo: C-SPAN screen grab]
Have a tip we should know? [email protected]
---