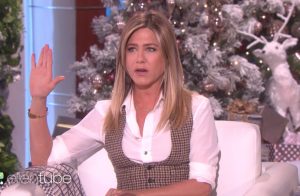 It's no secret that tabloids haven't always been kind to Jennifer Aniston. Earlier this year, she wrote an essay for the Huffington Post calling out gossip magazines, saying that the "objectification and scrutiny" that women have to go through is "absurd and disturbing," and the way she in particular is portrayed "is simply a reflection of how we see and portray women in general, measured against some warped standard of beauty."
She stopped by Ellen on Wednesday and explained to host Ellen DeGeneres what prompted her to write the essay. She said that she was "pretty raw" after her mother passed away, and she was coming back from vacation. When she and husband Justin Thoreaux arrived at the airport on the way home, she said she was mobbed in a "strange" way- so strange, she thought that Kim Kardashian must be somewhere nearby.
As it turned out, while she was on vacation, the paparazzi had taken an unflattering photo of her, and, for the billionth time, suggested she may be pregnant. She described it as being "disgustingly objectifying" and said she "was just fed up with it."
"I think these tabloids, all of us, need to take responsibility for what we ingest into our brains… We as women do a lot of incredible things in this world other than just procreate, and not that that is not, but it's like, we just get boxed in. They love the narrative, they love the story."
She also mentioned that "women are many of the authors of these horrible articles… so we have to stop listening to them, and we have to stop buying them, because we have to support each other, especially at this time… It's up to us what makes us happy and fulfilled."
Watch the full video above.
[image via screen grab]
Have a tip we should know? tips@mediaite.com