10 Reasons Why Bone Broth Is the New Green Juice (And We're Only Slightly Terrified)
10 Reasons Why Bone Broth Is the New Green Juice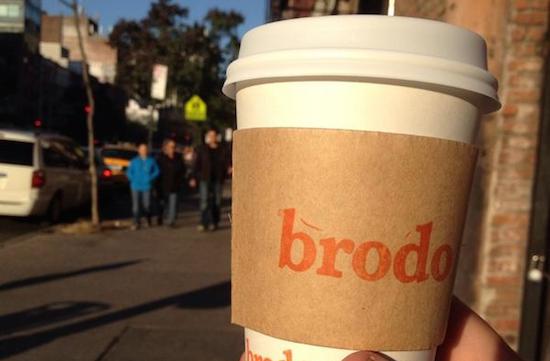 We absolutely remember the first time ever that we had a green juice. Because let's face it — we're a little bit opposed to the healthy stuff. Like, when we used to go to Jamba Juice in high school we ordered the only smoothie on the menu with peanut butter and chocolate chips, because why would anyone ruin a perfectly good smoothie with fruit and stuff? So that first green juice, so loaded with so many greens, so many of the things we avoid at the salad bar, staring us down gave us the shivers. And even though we were so repelled by the thing by the look of it, we admit — it was pretty damn delicious.
And now that we've succumbed to green juice, we know what is coming around the corner for us: bone broth.
Because vegetables in liquified form has not proved to be healthy enough for us, the food gods have deemed that the next all-revering, all-cleansing, all-consuming new health food shall be bone broth. One pro we can think of: winter, aka Polar Vortex 2.0, is coming. The cons: Well, ….
Nevertheless, we believe that we too shall be sucked in by the bone broth brouhaha because really, bone broth is just green juice in a meatier disguise. Our reasoning:
1. Ginger is a common ingredient found in both green juices and bone broth, because ginger makes everything taste better.
2. It will have the appropriate signage and packaging to appeal as trendy as a green juice.
Had a blast, I hope soRT @dsliwinski1: More fun from the @MarcoCanora crew. So damn good. This will become a habit. pic.twitter.com/QaeZhpmMoa

— marco canora (@MarcoCanora) November 4, 2014
3. It's healthy, which is a good thing. According to health experts, "homemade bone broth is rich with easily absorbable minerals such as magnesium, phosphorus, sulfur, and trace minerals difficult to obtain elsewhere," so you know, good for colds and stuff.
4. A famous chef is behind the broth-it movement. Marco Canora, of Hearth and Terroir restaurants, is opening a broth-only restaurant called Brodo in Manhattan's East Village, quietly impeding on green juice territory with his bone broths. He says his daily dose of bone broth has helped him recover from "twenty years of eating bread, drinking booze, smoking cigarettes," and pre-diabetes.
5. There will be bone broth cookbooks coming soon, and we know no food trend is complete unless you can make it at home.
Bone broth cookbook coming soon. RT @Justgin1978: @DrFrankLipman @MarcoCanora – can we have the recipe pls? I don't live in NYC.

— marco canora (@MarcoCanora) November 13, 2014
6. There are trendy bags for the bone broth movement.
7. GOOP is already on it. Bone broth is in their "winter detox menu."
8. The Mason Jars are on it.
27 cups of bone broth, ready for the freezer. pic.twitter.com/zM9zFX2r5c

— Melissa Joulwan (@meljoulwan) November 11, 2014
Making a big batch of Chicken Stock Bone Broth to freeze in ice cubes tray! http://t.co/nC4hruUcoX #paleo #health pic.twitter.com/R3y9Ythi2t

— Danielle Walker (@againstallgrain) May 3, 2014
#bonebroth heals the belly and nourishes the body. Step by step instructions http://t.co/urX2fQkZkK pic.twitter.com/eJWW51fraR

— theorganickitchen (@SpikerLinda) November 7, 2014
9. And the organic food brands are on it.
Have you seen our newest product? Bone Broth! Find it in stores now & learn more about it here http://t.co/UuGXBl9PRz pic.twitter.com/TwAjoatrrW

— Pacific Foods (@pacificfoods) October 8, 2014
10. It's already been called a trend story and an "overpriced, organic" rebranding of a food people have been eating for generations.
The evolution of the bone broth is complete. We will update when we too succumb to this trend.
[Chris Kesser, Grubstreet, Hemsley + Hemsley, GOOP, Business Insider]
RELATED: 'Moustaches Make Food Taste Better,' Says College Humor (And Every Dude in Brooklyn)
Gail Simmons Lays Down the Law on Food Trends: Yes to Quinoa, No to Cronut Lines and Cake Pops
The New Yorker Imagines a World Without Kale Just to Make Fun Of You Greens-Loving Hipsters
Have a tip we should know? tips@mediaite.com