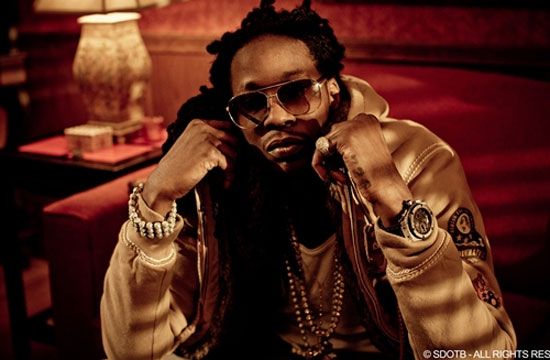 Dear producers for The Chew: Rapper 2 Chainz is releasing a cookbook with his sophomore album, slated to drop this Wednesday. Is this enough reason for you to book him on your show? We think it is, especially since he's apparently turning into the Gwyneth Paltrow of the rap game.
No, for real, Tity Boi is releasing a cookbook filled with health-conscious recipes, along with his new album Based On A True Story 2: Me Time, or B.O.A.T.S. 2. Mr. Chainz admitted that he'd been suffering stomach problems, and had been working with a personal chef to develop recipes that would help him change his eating habits. "I'm cool enough to be comfortable in my own skin and try to educate people," he said in an interview with New York's Power 105.1:
"So with this cookbook I'm going to have probably about 14-15 meals, how many ever songs it is. It's going to tell you whatever was used to make this as far as ingredients and cooking time and all that stuff. And probably the pros and cons of eating it."
But of course, this being 2 Chainz, even the most boring, healthy recipes still need to be ludicrously bling'd up. For instance, look at this description for Golden Flaked Yams Benedict:
"A swagged-out take on the classic Eggs Benedict dish, in which slices of smoked salmon and canadian bacon are swapped with gold leaf-covered rare yams and low-fat turkey bacon."
That's right: yams and turkey bacon, COVERED IN 24-KARAT GOLD. Because it's 2 Chainz and why the hell not. Question: does gold make turkey bacon taste better? Apparently, only one man can tell us that.
Another question: Will this be enough to get 2 Chainz on The View? This is an admitted life goal of his:
"I just want to come probably with my own little array of swag aprons with the cookbook. That will probably get me on The View or something like that."
Swag aprons. Please.
[XXL via The Daily Beast]
RELATED
Is Jay-Z Suing His Former Chef For $1.5 Million Over A Chicken Wing Recipe?
Why Are Drake And Guy Fieri Cooking Together?
WATCH: Eddie Huang Finds The Best Barbecue In Miami…In The Parking Lot Of A Strip Club
Have a tip we should know? tips@mediaite.com