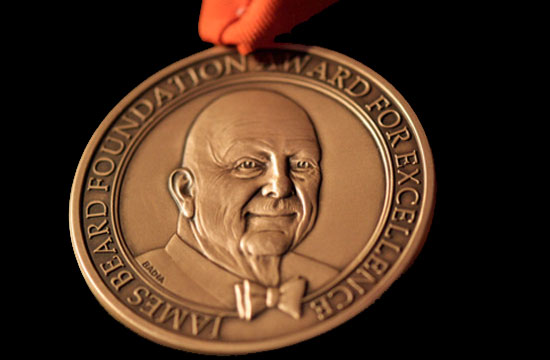 Celebratory mimosas, bloody marys, and dignified classic: "the breakfast beer" are being clinked across the country right now by chefs and restaurants toasting to the newly announced 2014 James Beard Award nominations. Really, to be nominated is to win, but we may be biased in that assessment because (psssst) we were nominated for A Thing on the Broadcast and Journalism Awards side. But that's where the pale and lumpy writers go to troll themselves. Here's the list of the beautiful and glamorous people up for the Restaurant and Chef Awards, which will be held in New York City on May 5th:
Best Chef: Great Lakes (IL, IN, MI, OH)
Dave Beran, Next, Chicago
Curtis Duffy, Grace, Chicago
Jonathon Sawyer, The Greenhouse Tavern, Cleveland
Paul Virant, Vie Restaurant, Western Springs, IL
Andrew Zimmerman, Sepia, Chicago
Best Chef: Mid-Atlantic (D.C., DE, MD, NJ, PA, VA)
Cathal Armstrong, Restaurant Eve, Alexandria, VA
Spike Gjerde, Woodberry Kitchen, Baltimore
Brad Spence, Amis, Philadelphia
Vikram Sunderam, Rasika, Washington, D.C.
Cindy Wolf, Charleston, Baltimore
Best Chef: Midwest (IA, KS, MN, MO, NE, ND, SD, WI)
Justin Aprahamian, Sanford, Milwaukee
Paul Berglund, The Bachelor Farmer, Minneapolis
Gerard Craft, Niche, Clayton, MO
Michelle Gayer, Salty Tart, Minneapolis
Kevin Nashan, Sidney Street Café, St. Louis
Lenny Russo, Heartland Restaurant & Farm Direct Market, St. Paul, MN
Best Chef: New York City (Five Boroughs)
April Bloomfield, The Spotted Pig
Dan Kluger, ABC Kitchen
Mark Ladner, Del Posto
Jonathan Waxman, Barbuto
Michael White, Marea
Best Chef: Northeast (CT, MA, ME, NH, NY STATE, RI, VT)
Jamie Bissonnette, Coppa, Boston
Joanne Chang, Flour Bakery + Café, Boston
Gerry Hayden, The North Fork Table & Inn, Southold, NY
Matt Jennings, Farmstead Inc., Providence, RI
Michael Leviton, Lumière, Newton, MA
Barry Maiden, Hungry Mother, Cambridge, MA
Best Chef: Northwest (AK, ID, MT, OR, WA, WY)
Renee Erickson, The Whale Wins, Seattle
Jason Franey, Canlis, Seattle
Naomi Pomeroy, Beast, Portland, OR
Ethan Stowell, Staple & Fancy, Seattle
Cathy Whims, Nostrana, Portland, OR
Best Chef: South (AL, AR, FL, LA, MS, PR)
Vishwesh Bhatt, Snackbar, Oxford, MS
Justin Devillier, La Petite Grocery, New Orleans
Ryan Prewitt, Pêche Seafood Grill, New Orleans
Alon Shaya, Domenica, New Orleans
Sue Zemanick, Gautreau's, New Orleans
Best Chef: Southeast (GA, KY, NC, SC, TN, WV)
Kathy Cary, Lilly's, Louisville, KY
Ashley Christensen, Poole's Downtown Diner, Raleigh, NC
Edward Lee, 610 Magnolia, Louisville, KY
Steven Satterfield, Miller Union, Atlanta
Tandy Wilson, City House, Nashville
Best Chef: Southwest (AZ, CO, NM, OK, TX, UT)
Kevin Binkley, Binkley's, Cave Creek, AZ
Bryce Gilmore, Barley Swine, Austin
Hugo Ortega, Hugo's, Houston
Chris Shepherd, Underbelly, Houston
Justin Yu, Oxheart, Houston
Best Chef: West (CA, HI, NV)
Stuart Brioza and Nicole Krasinski, State Bird Provisions, San Francisco
Michael Cimarusti, Providence, Los Angeles
Corey Lee, Benu, San Francisco
Daniel Patterson, Coi, San Francisco
Jon Shook and Vinny Dotolo, Animal, Los Angeles
Best New Restaurant
Betony, NYC
Carbone, NYC
Coqueta, San Francisco
Estela, NYC
Pêche Seafood Grill, New Orleans
Outstanding Wine, Beer, or Spirits Professional
Sam Calagione, Dogfish Head Craft Brewery, Milton, DE
Ron Cooper, Del Maguey Single Village Mezcal, Ranchos de Taos, NM
Garrett Oliver, Brooklyn Brewery, Brooklyn, NY
Harlen Wheatley, Buffalo Trace Distillery, Frankfort, KY
David Wondrich, spirits educator, Brooklyn, NY
Outstanding Wine Program
A16, San Francisco
Bar Boulud, NYC
The Barn at Blackberry Farm, Walland, TN
FIG, Charleston, SC
The Little Nell, Aspen, CO
Outstanding Bar Program
Bar Agricole, San Francisco
The Bar at the NoMad Hotel, NYC
Clyde Common, Portland, OR
Maison Premiere, Brooklyn, NY
The Violet Hour, Chicago
Outstanding Service
Blue Hill, NYC
Quince, San Francisco
The Restaurant at Meadowood, St. Helena, CA
Topolobampo, Chicago
Vetri, Philadelphia
Outstanding Pastry Chef
Dominique Ansel, Dominique Ansel Bakery, NYC
Dana Cree, Blackbird, Chicago
Belinda Leong, b. patisserie, San Francisco
Dahlia Narvaez, Osteria Mozza, Los Angeles
Christina Tosi, Momofuku, NYC
Outstanding Restaurateur
Barbara Lynch, Barbara Lynch Gruppo, Boston (No. 9 Park, Menton, B&G Oysters, and others)
Donnie Madia, One Off Hospitality Group, Chicago (Blackbird, Avec, The Publican, and others)
Cindy Pawlcyn, Napa Valley, CA (Mustards Grill, Cindy's Back Street Kitchen)
Caroline Styne, Los Angeles (Lucques, A.O.C., Tavern, and others)
Phil Suarez, Suarez Restaurant Group, NYC (ABC Kitchen, Jean-Georges, wd~50, and others)
Rising Star Chef of the Year
Presented by S.Pellegrino® Sparkling Natural Mineral Water
Jimmy Bannos Jr., The Purple Pig, Chicago
Katie Button, Cúrate, Asheville, NC
Jessica Largey, Manresa, Los Gatos, CA
David Posey, Blackbird, Chicago
Blaine Wetzel, The Willows Inn on Lummi Island, Lummi Island, WA
Outstanding Restaurant
Hearth, NYC
Highlands Bar and Grill, Birmingham, AL
The Slanted Door, San Francisco
Spiaggia, Chicago
wd~50, NYC
Outstanding Chef
Michael Anthony, Gramercy Tavern, NYC
Sean Brock, McCrady's, Charleston, SC
Suzanne Goin, Lucques, Los Angeles
David Kinch, Manresa, Los Gatos, CA
Nancy Silverton, Pizzeria Mozza, Los Angeles
Marc Vetri, Vetri, Philadelphia
2014 James Beard Foundation America's Classics
Hansen's Sno Bliz, New Orleans
Owner: Ashley Hansen
Nick's Italian Café, McMinnville, OR
Owners: Nick Peirano, Carmen Peirano, and Eric Ferguson
Olneyville New York System, Providence, RI
Owners: Stephanie Stevens Turini and Greg Stevens
Perini Ranch Steakhouse, Buffalo Gap, TX
Owners: Lisa and Tom Perini
Sokolowski's University Inn, Cleveland
Owners: Bernard Sokolowski, Mary Balbier, and Michael Sokolowski
2014 James Beard Foundation Humanitarian of the Year
Matt Haley
Philanthropist and Restaurateur
Rehoboth Beach, Delaware
2014 James Beard Foundation Lifetime Achievement Award
Sirio Maccioni
Le Cirque
NYC
Congrats to one and all, and shoutout to our contenders in the Best Group Blog category: Eater National and First We Feast. We hope you're getting drunk at the office today, too.
RELATED:
LIVE: The James Beard Foundation Announces 2014 Award Nominees
Hold Onto Your Panties: The 2014 James Beard Award Semifinalists List Is Here
Chicago Pitches James Beard Foundation To Be Host City for This Year's Awards
Have a tip we should know? tips@mediaite.com