James Beard Awards Semifinalists Are People, Too; Will Get a Live Announcement This Year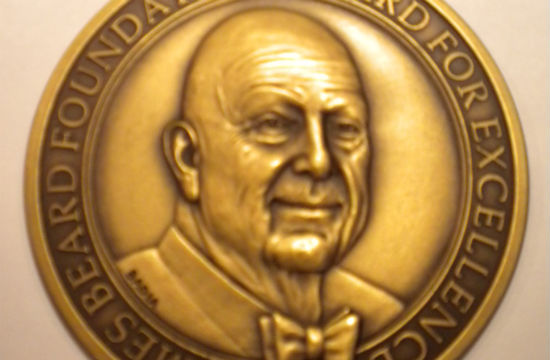 We know that, every March, y'all glue yourselves to your nearest internet machine and tune in to watch the live stream of that year's James Beard Awards finalists. Obviously. It's the third biggest day of the year. Those finalists are whittled down from the long list, which is released about a month before, and go on to become the official nominees, out of which a winner is chosen in May at the James Beard Awards, held at Lincoln Center. Previously, semifinalists were announced in a sad press release, blasted out to food sites, and presumably a print newspaper of some kind, but who reads those?
This year, for the very first time, the semifinalists will get a prom, too, and be announced in their very own live stream this February in Orlando, FL. From the press release:
New York, NY (December 20, 2013) – The James Beard Foundation and the official tourism association Visit Orlando announced today that it will reveal the 2014 James Beard Foundation Awards Restaurant and Chef Semifinalists at a live press conference in Orlando, Florida, on February 19, 2014. This is the first time the semifinalists will be announced at a live event.

"We're thrilled to give special and well-deserved recognition to semifinalists this year," said Susan Ungaro, president of the James Beard Foundation. "With a flourishing farm-to-table movement and a growing independent restaurant scene, Orlando provides a fitting setting for our first live semifinalist announcement."

Twenty Semifinalists in each Restaurant and Chef award category will be revealed at a 10 A.M. press conference and breakfast at East End Market (3201 Corrine Drive, Orlando, Florida), a community food hub for entrepreneurs, tradespeople, artists and chefs.
With some poor Beard Foundation VIP at the podium, reading of a list of twenty names for each of the not-at-all-few restaurant and chef categories, the semifinalist announcement is sure to be every bit as fun as a high school graduation! Plus, the night before, the James Beard Foundation is hosting a ticketed dinner, so everyone will be just as hungover as your parents were at yours.
Check out the press release in full over at Eater.
[Eater]
Have a tip we should know? tips@mediaite.com