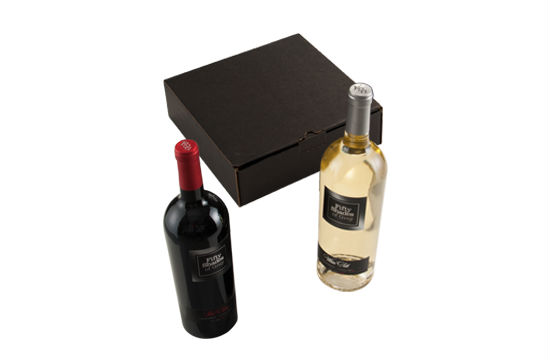 Just what this world needs: more 50 Shades of Grey-related products.
But hey, this 50 Shades of Grey wine comes from author E.L. James herself — what a treat! Going for $17.99 per bottle, there are only two wines in the collection: one red, appropriately (or maybe not so appropriately) named "Red Satin" and one white, "White Silk."
Red Satin is a 2009 vintage blend of Petite Sirah and Syrah described as having notes of "black cherry, cocoa powder, creamy caramel and vanilla, leather and clove spice." Sexy. White Silk is a 2012 vintage blend of Gewürztraminer and Sauvignon Blanc; here you'll find "floral aromatics of lychee, honey and pear lead off this white blend, tempered by flavors of crisp grapefruit, mineral and lush pear with a faint hint of butterscotch."
If you're really into this, you can buy a case of either variety for $215.88. You can also design your own gift set. Say you want one bottle of Red Satin, one bottle of White Silk, and a box set of the 50 Shades of Grey trilogy. Add some fancy packaging, and that will set you back $73.79 plus shipping.
Here's what the author had to say about it all:
Wine plays an important role in Fifty Shades of Grey, adding to the sensuality that pervades a number of encounters between the characters. I've always had a penchant for good wine, so combining two of my passions to blend Red Satin and White Silk was a natural extension of the Fifty Shades trilogy. I hope all of you curl up with a glass as you enjoy the romance between Anastasia and Christian.
Poor grapes.
RELATED:
Where Food Meets Porn: Ruth Bourdain And 50 Shades Of Chicken Author F.L. Fowler Reveal All
Last Call: Where Was 50 Shades of Chicken When Julia Child Was Roasting Birds?
WATCH: Adam Perry Lang Teaches Us How To Give Fancy Meat The S&M Love It Deserves
Have a tip we should know? tips@mediaite.com