WATCH: Nookie Does The Best Impression Of His Fellow 80 Plates Cheftestants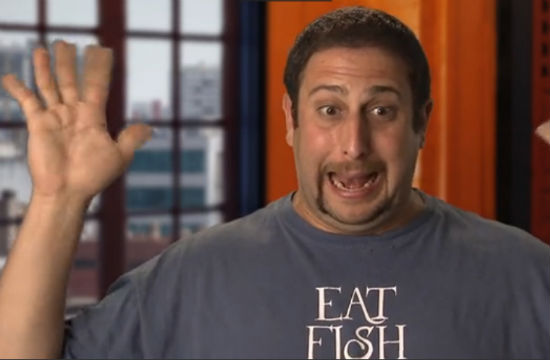 We have to admit: we cannot believe Nookie made it all the way to the Around the World in 80 Plates finale. We totally wrote him off the first episode as a jerk from Boston who didn't even have a real job. Executive chef for the Red Sox hardly compares to John's Art Smith/Table Fifty-Two pedigree. But, Nookie turned out to be a total hustler! He's a master strategist, a people person, and keeps us laughing while he's charming his way into the locals' hearts.
On this week's episode, the four remaining cheftestants traveled to Buenos Aires, Argentina, and, in an empanada-selling challenge, Liz completely (predictably) choked. She wound up burning a batch, which left her and teammate John in a lurch behind Nookie and Avery — a stumble from which they never managed to recover. Nooks and Aves won access to THE EXCEPTIONAL INGREDIENT, but, somehow, Liz still won MOST VALUED CHEF. Of course, this put the three actually talented chefs in the tensest elimination we've seen to date. Ultimately, John and Avery stuck together and voted John off. We were sad to see him go, but we respect Avery's integrity in keeping her strongest competitor in the competition to give herself a challenge, rather than taking an easy win in the finale.
Stay tuned next week for Around the World in 80 Plates' season finale, which takes Liz, Nookie, and Avery to Uruguay to cook for Wolfgang Puck. In the meantime, check out Nookie's hilarious and spot-on impression of his competitors during the empanada disaster below.
Have a tip we should know? tips@mediaite.com