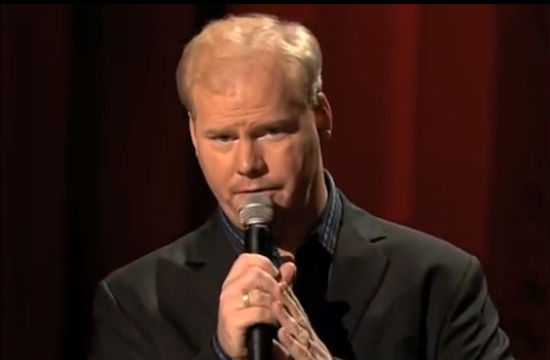 It's a special moment when you realize another mortal being understands you: your wants, your needs, your desires, and yes, your cravings for breakfast burritos. And we have found that in Jim Gaffigan, thanks to his delightful new book Food: A Love Story. Is this not our own love story, Jim?!
Being on the press junket for the book, we're finding out lots of things that Gaffigan loves. We love all those same things! Why we're officially kindred spirits with Gaffigan and will immediately add him to the list of our "who would be invited to your dream dinner party" when asked. (Unless there's a real dinner party coming up, in which we'd be delighted to come.)
1. He appreciates breakfast as a thank you (via Bon Appetit):
Food is very much a reward and I think that's why so many breakfast items are so good. "Thank you for waking up, now you get to have a pancake." "Thanks for coming to our wedding, here's an egg Benedict."
2. He knows that kale is just a necessity, and not good … (via Bon Appetit) :
I do believe that no one likes kale, and everyone acts like they like it. It's not good. But people want to to eat it. It's like vitamins you can chew on.
3. … And that the best salads are the unhealthy ones (via Bon Appetit):
I'll eat a salad when in California, I don't mind. I'll eat a salad if it's covered in Caesar dressing. I'll eat a salad if it's a wedge.
4. He's a regular at Katz's Deli (via Parade):
"Jim is a great schmoozer and a ­super-nice guy, but mostly he's an eater," says Alan Dell, Katz's fourth-generation owner. "It's great to see how much he enjoys the food." True to form, Gaffigan jumped behind the counter at Katz's to joke around with the staff and mingle among the hanging ­salamis. "Jim Gaffigan?" said one startled customer and fan. "You're working here now?"
5. He loves a good breakfast burrito (via Bon Appetit):
If I'm working on a film set, I have to get a breakfast burrito, which I feel is one of the more important inventions of mankind. It doesn't provide real nutritional value. … It's horrible for you, but it's delicious. I like bacon and sausage, eggs, salsa, cheese, and I like a little potato in there. Why not?
6. He's not overly obsessed with celebrity chefs (via Eater):
I didn't want to present myself as a foodie or someone that even knows tons of celebrity chefs. I kind of identified myself as like: I could probably name three celebrity chefs. I've never commented on Yelp. [I'm] somebody who wants the closest best burger. I admire and I'm jealous of some foodies' culinary escapades but I've got five kids and I do stand-up every night, so I'm not somebody that can go out to dinner and go on these foodie adventures.
7. He appreciates a good Chicago deep dish (via Eater):
I really consider the crust … I remember when I was describing the crust as cake. My editor kept saying, "You mean pie?" It would go through these different versions and someone would be like, "You mean pie crust?" And I'm like, "No, it's a cake crust." Because Chicago deep dish crust, to me, is as good as cake.
8. And he understands the true frustration of a bad meal (via Eater):
I don't know if I captured this [in the book], but I go through periods where I'm eating healthy. And then when you're eating healthy, you're treating yourself to a cheeseburger. At this point I eat like five cheeseburgers a day. But when you're treating yourself to a cheeseburger and that cheeseburger is not a home run, you're really angry. You're like, "This is my cheeseburger? And it's not amazing?" You're like, "How dare you waste my time? I'll eat something else, but how dare you say that this is a cheeseburger if it's not good?"
9. He foresaw the catastrophe that is the Hot Pocket way before anyone else did.
Still need more reasons to believe why Gaffigan is your spirit animal? Watch him on the TODAY show ("seafood is disgusting" — yes!), and read a quick excerpt here.
Visit NBCNews.com for breaking news, world news, and news about the economy
[Bon Appetit, Parade, Eater, TODAY]
RELATED: 7 Prophecies from Jim Gaffigan's Hot Pockets Bit That May Come True After the Recall
Gluten-Free, Vegan, Foodie: The Venn Diagram To Prove All Of Us As Idiots
Mark Bittman Nails Why the Word 'Foodie' Is So Infuriating in New York Times Op-Ed
Have a tip we should know? tips@mediaite.com