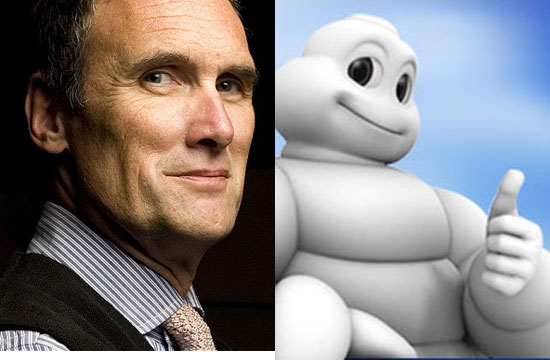 On the other side of yesterday's Michelin hoopla stands London Times critic A.A. Gill, whose tirade against the entire concept of the Michelin Guide is printed in the November issue of Vanity Fair. It's not so much a tirade, really, as it is a scorched-earth campaign against a system he calls, among many other things, "manipulative, obsessive, and secretive."
Not only does he credit the Michelin system with the creation of that horrible subcategory of human being, foodies (aka "people who aren't out for a good meal with friends but want to tick a cultural box and have bragging rights on some rare effete spirit"), Gill compares the relationship chefs have with the Guide to love-starved children craving their distant parents' affection:
This wasn't business; this was personal. They stopped cooking for dumb, annoying customers and began making food for invisible, mercurial, undercover inspectors. Chefs invested everything in building dining rooms that would attract Mama and Papa Michelin. They worried to the point of breakdown and suicide about how to keep the love.
The Michelin Guide is also, among other things, Franco-centric (see their failed attempts in Bombay and Italy, bias towards overcomplicated preparations, and inspectors who write deeply purple prose about restaurants):
"Devout foodies are quieting their delirium of joy at having scored a reservation—everyone and everything here is living up to the honor of adoring this extraordinary restaurant … Uni with truffle-oil gelée and brioche expresses the regret that we have but three stars to give." That's not a review of Chef's Table at Brooklyn Fare—it's a handjob.
Gill asserts — and we'd be inclined to agree, given how many strangers yank us into hourlong lectures about their favorite meals once they discover what we do for a living — that a growing number of chefs secretly resent the Michelin Guide, citing one who told him that he feared its annual republication, "not because he might lose his stat­us but because for the next month the booking would be full of customers with faces like smacked bottoms who complained about everything."
Of course we'd say the entire article is worth a read, particularly since it provides the very antithesis of this site: it is upon this system that the celebrity chef exists, he suggests, for without a guide that declares someone the best at cooking, who would we celebrate? But at the same time, he also posits that the chase for the guide's approval could be the very thing that destroys a cuisine itself. While we've often argued that chefs, particularly celebrity chefs, could be considered artists, we'll admit that the livelihoods of other types of artists (who win things like Emmys, Grammys, Oscars, etc) don't depend on an award as much as a restaurant's would on a Michelin star.
We invite your thoughts in the comments.
[Vanity Fair]
Have a tip we should know? [email protected]