A Brief History of Real Housewives' Culinary Ventures And The Conflicts They've Caused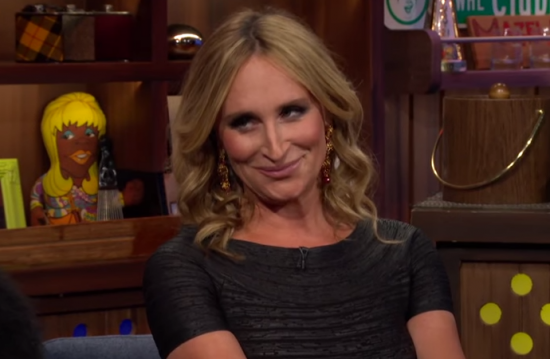 By now you've heard that Sonja Morgan is opening a restaurant, Tipsy Girl. As of now, the place is supposedly going to be seating and feeding real human customers come mid-July and frankly, we can't wait to be some of them. If you've been following the Real Housewives of New York City this season, you know that Tipsy Girl has been a major point of contention between one Sonja Morgan and head of he Skinny Girl empire, Bethenny Frankel. In a sit-down between two of our favorite Housewives, Frankel called Tipsy Girl a "Cheater Brand," (it rides on the coattails of an existing brand by using a similar name) and ultimately said to Morgan, "I'm completely insulted, and I want nothing to do with you."
Of course, this isn't the first time a Housewife of somewhere has decided to dip into food and chefdom. From wine to coffee to books to bakeries, the Real Housewives have attempted to capitalize on all things food and drink. And where there are Housewives, there is always drama. Bethenny and Sonja may be in the most brutal one to date, but here are the top three other food fights that come pretty close:
1. Teresa Giudice vs. Caroline Manzo
How can any of us forget the time that Teresa Giudice said that Caroline "you mess with my family, you mess with me" Manzo is as "Italian as the Olive Garden" in the first pages of her book, Fabulicious! As you might imagine, Mama Manzo wasn't pleased. She responded in an ice-cold testimonial saying, "there comes a time when you have to recognize that the tides are changing, and I recognize that now." Giudice also calls her "one-sixteenth Italian or whatever she is," which was mistake number two. Albie Manzo wonders "who did the math on that?" Everyone's favorite friend Greg Bennet is quick to respond, "maybe their accountant." Burned.
2. Soon-to-be-ex Countess Luann De Lesseps vs. Ramona Singer
As the Countess sings, "money can't buy you class." Never was that more apparent than in season five of The Real Housewives of New York City when Luann De Lesseps invited everyone over for a "wine games" party. She had Ramona Singer do a 'blind' taste test, and gave Singer her own wine, Ramona Pinot Grigio in the test. As she was unknowingly tasting it she determined, "It needs more flavor — maybe some more citrus fruit." Then, De Lesseps revealed it was her own wine she was tasting. Singer tried to play it cool and laugh it off, but seriously Luann? Mean.
3. Vicki Gunvalson vs. Tamra Judge (née Barney)
They say you should never mix business with pleasure. When Vicki and Tamra launched Wines by Wives in 2012, it was meant to be fun for them. But, when each of the 'wives felt the other wasn't pulling her weight, things became strained. But it wasn't until after Vicki had actually pulled out of the company that things got weird. Even after she had left, the website continued to use her image. Vicki was apparently surprised and posted the following on her Facebook:
Wines by Wives customers: Some time ago Vicki ended her affiliation with WbW — and was surprised her image/presence was still on their site. Vicki was shocked/dismayed to hear followers were having trouble with their orders. Vicki reached out directly to the owner of WbW and asked for immediate resolution. Thanks to all of you who brought this to our attention. -The Vicki Team-
Whoops. Whose team are you on in these feuds? Let us know!
[image via screen grab, Bravo]
Related: 
We Cannot Wait to go to Sonja Morgan's Upcoming Restaurant, Tipsy Girl
–
Have a tip we should know? tips@mediaite.com