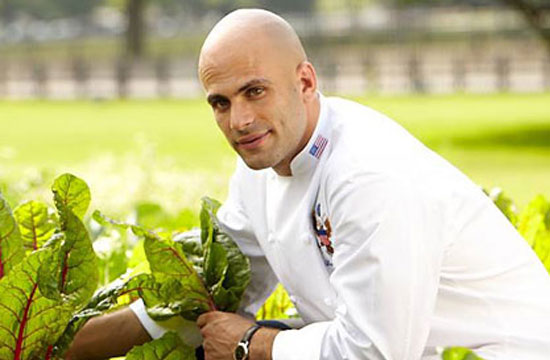 In a new Vogue profile, White House personal chef Sam Kass and MSNBC's Alex Wagner firmly establish their position as Washington's Fanciest It Couple, running roughshod over all those other DC It Couples (screw you, Obamas; go sob in a corner, Matalin/Carville) with their Coolness and Hip Ways.
Why are Kass and Wagner, who recently got engaged, So Cool? For starters, one's a fancy chef who's known the president for nearly ten years, one's a glamorous talk show host, and, lest we forget, they recently got profiled in Vogue. 
Speaking of Vogue, this was their first date:
…Kass discovered that Wagner was a fellow Washington Nationals fan. Casually, she asked him if he'd like to play catch sometime in D.C. Sure, he told her, and she brought her glove with her on her next trip. She thought they'd go to a park—but Kass raised the stakes: He persuaded his friend Edward Cohen, whose family is principal owner of the Nationals, to open Nats Park. For an hour, they tossed a baseball back and forth in the empty stadium.
Read more about their stupid perfect relationship in stupid Vogue and look at them being stupidly good looking (stupid). For the sake of an ideal that we may cling onto forever, let us hope that their relationship does not devolve into the relationship of the last glamorous DC power couple profiled in Vogue.
[Vogue]
RELATED:
Sam Kass Is Engaged, Breaks Food-Loving, Political Junkie Hearts Everywhere
Sam Kass, The Biggest Chef Hunk, to Guest-Judge The Biggest Loser
Not Even White House Personal Chef Sam Kass Can Escape Government Furloughs
Have a tip we should know? tips@mediaite.com