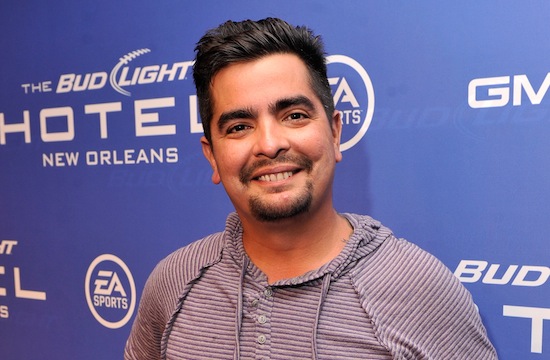 Food Network star and Mexican-American chef Aarón Sánchez was born to be a star in the food business, it seems. So to hear Sánchez tackle the discrimination he felt as a brand-new chef, plus discrimination that Latinos still face in the restaurant industry, is pretty remarkable.
Sánchez, the son of restaurateur and pioneer chef, Zarela Martinez, grew up in kitchens and began working for chef Paul Prudhomme at an early age. He's since worked his way up to put his name on Mestizo, Tacombi Tacqueria, and Crossroad House of Blues, plus starring on Chopped, Heat Seekers, and Best Thing I Ever Ate. Still, Sánchez told the Latin Times that one of the hardest parts of becoming a professional chefs was the discrimination against Latinos in the kitchen. Said Sánchez:
"The second obstacle [in becoming a chef] is overcoming discrimination, to be very honest. I was told when I started out that people like me are dishwashers and prep cooks, and we would never be able to be chefs. So much has changed in 20 years."
Now, Sánchez hopes to help give all restaurant workers documentation and social services, in order to recognize them as a part of "the fabric of this country." That, and maybe get the rest of the country to see that Mexican food is more than a "homogenized cuisine dealing with cheese and combo platters." But we love the cheese and combo platters! You can find the full interview here.
RELATED:
WATCH: John Besh And Aaron Sanchez Judge Children In Hunger Games Sponsored By Bounty
We Took This Ridiculous E! Online Poll on the 'Hottest Celebrity Chefs' So You Don't Have To
Eddie Huang And Francis Lam Debate Culinary Imperialism
Have a tip we should know? tips@mediaite.com