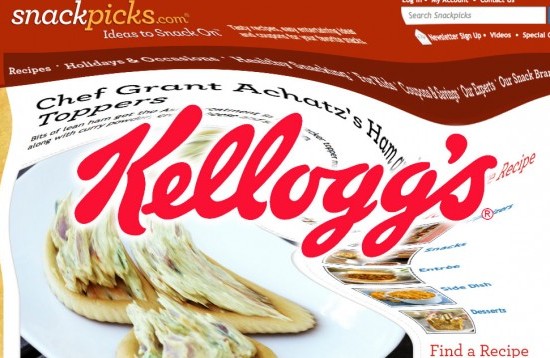 Things are getting a little confusing over in Keebler Cracker Recipe Land.
On Tuesday, the food blogosphere exploded with the revelation that SnackPicks.com, a Kellogg-sponsored website hawking products disguised as recipes, had been attaching the names of famous and renowned chefs to some seriously banal recipes for Keebler Town House Crackers.  In particular, the idea that 3-star Michelin chef "Grant Achatz", sometimes known as "Actatz", had been making some mashed potato raisin cracker thing for Kellogg, raised eyebrows.
We asked Kellogg for a response, and, well, we got one:
Kellogg and Chef Grant Achatz had a relationship in 2006 in which he developed two recipes as part of a communications program for the Keebler Town House brand.  We had similar arrangements with the other chefs you mentioned.
The guy who does this?  And this?  And very famously self-published this because he felt that he wouldn't be able to clearly express his artistic vision with a traditional publishing house?
Nick Kokonas isn't buying it, and he's Achatz's partner. He received the same email sent to journalists, and is calling foul.
"Even if they did get that from him many years ago, they wouldn't have the right to post it up now, 6 years later," he wrote in an email. "I requested a copy of any agreement they may have… I have not heard back. Usually such an arrangement would have lasted from 6 months to a year. Probably why they haven't gotten back to me.
"It's possible he did something back in 2006," he clarified. "I have no record of it, but that's 6 years ago. Kellogg's told another media member that they bought the recipe as part of a Family Features advertisement back then."
Kellogg has yet to respond to this development, and we eagerly await their reply. In fact, we're so anticipatory, we're gonna munch on some Keebler Town House Original Crackers while we do so. (Will this help us hear from you faster, Kellogg?)
Have a tip we should know? tips@mediaite.com