Adam Platt's Defense of Zero-Star Tavern on the Green Review: 'In the End, It Came Down to the Prices'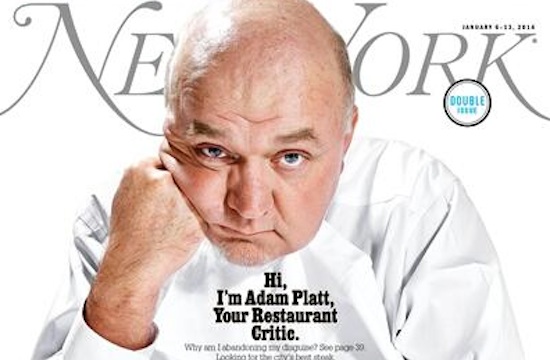 Our out-turned pockets and adventurous palates frequently drive us to cheap-but-satisfying, mason jar-besotted, reclaimed wood-furnished, noisy, young, vibrant hangouts disparaged by critics for being tiresome hipster trash.
Fair enough, but even so, it warmed our jaded hearts when Adam Platt revealed to Grub Street earlier today that his zero-star review of the Tavern on the Green reboot came down to the fact that it was bad food, served in a stylish setting, at astronomical prices, based solely on its has-been reputation.
He admits that if it had been any other upstart restaurant, he might have just forgone writing a review altogether in lieu of writing a bad one. (If he had nothing nice to say, he preferred not to say anything at all.)
"But Tavern on the Green is arguably the most famous, most profitable restaurant in the history of the city," he explained. "As a critic, you can't ignore a restaurant like that."
Continues Platt:
"Tavern on the Green is such a unique property, and I think people just like being there. I think the new renovation is much more in tune with the times than the old kitschy version. It's stylish, but the food, in my view, doesn't really do it justice…In the end, I think it came down to the prices, which are quite stratospheric. The entrees are 30, 40, even 50 bucks. That, combined with the mediocre quality of the food, I think pushed the restaurant into the valley of the goose eggs."
In a world where our choices are to get mocked for shelling out eight bucks on some crispy pigs ears at a loud, hip, no-reservations restaurant, where we had to wait two hours to be seated, or to get our parents to take us somewhere nice only to pay $50 for bad farm-to-table, we appreciate that at least one of those pesky, out-of-touch critics is watching out for us. You can read the rest of Platt's interview here.
Have a tip we should know? tips@mediaite.com