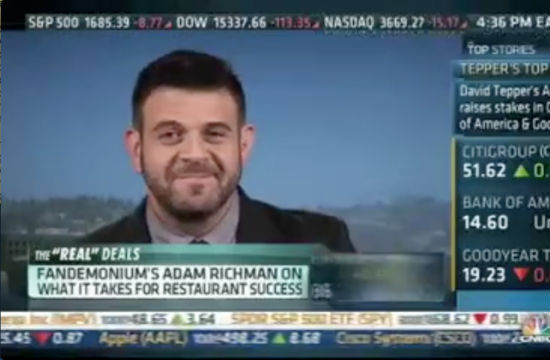 Apparent restaurant-reality-TV mogul Adam Richman was an honored guest on CNBC's Closing Bell today, discussing why the restaurant industry flounders while food reality shows skyrocket on its "Real Deals" segment. He clued in the stock market nerds with his particular brand of expertise, dishing:
"A lot of the restaurant market is just glutted. There's so very many restaurants, so many restaurant concepts, everyone's trying to be part of the next trend and the next phase. It really seems to be that the ones that succeed are the ones that don't really go with the trend. They sort of do a few things really well, and they do those for perpetuity."
He also blames Seamless Web for taking people out of restaurants, which, yo, Adam, we love you, and we're gonna let you finish, but Couch Sushi is some of the best sushi of all time.
And, while we were the first to call out that he underwent an impressive slimdown because he's about to premiere a network primetime gameshow, Adam clarified that he started slowly backing away from Man vs Food to preserve his Hot Factor, rather than his arteries (although, he did tell us that lost weight "for health," rather than TV vanity):
"For myself, people thought that I transitioned from Man vs Food to Man vs Food: Nation because of me having health problems or not wanting to do the challenges anymore myself, but quite frankly, my feeling is, if you wait for your audience to tell you that they want something new, you've already waited too long."
Check out Adam's very put-together talking head performance below.
Have a tip we should know? tips@mediaite.com