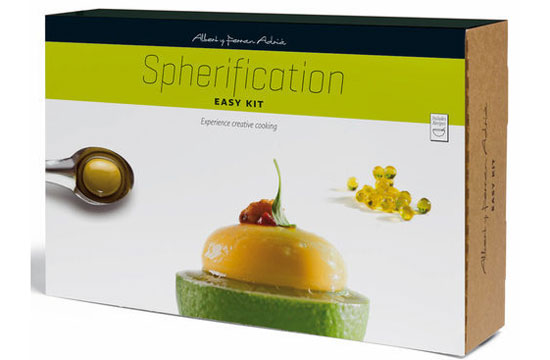 Face it: the world would be better if everything was sphere-shaped. Spheres are so friendly, so inviting; spheres are the shapes of happy things like balloons, soccer balls, planets, babies' heads, and obese people. Spherical foods, like olives and berries and (insert favorite round food here) are also great — but what if you, like Ferran and Albert Adrià, could enhance how round they could be? What if you could perfect perfection?
Then you really need the Easy Kit, now on sale for 70.15 euros ($92 for you spherical Americans). Eater reports that the Adrià bros teamed up with European companies Guzmán Gastronomía and Solegraells to create the DIY molecular gastronomy kit, along with three other kits: "Patisserie", which allows you to enhance flavors and textures in your desserts, "Cocktail", which will let you unleash your inner pretentious mixologist without feeling hopelessly inadequate, and "Cuisine", which helps you create jellies and "airs" whilst kicking Marcel Vigneron's butt.
"Fah!" you might say. "Fah to all that! All we care about are spheres!"
As you should, consumer; spheres are the best, and Albert is the first to agree with you, because he did so in this press release announcing the Easy Kit. "The avant-garde chefs must bring our solutions to the domestic sphere," he states. "Spherification is a fun technique that causes a great effect, an incredible resource for your special dishes."
Spherification is not really just a fun technique, though. Spherification is a lifestyle. Here's what your new spherical lifestyle will include:
The kit "Spherification" includes a new texture, Gelly, a 200 Bloom gelatine (average power for gelification) that is ideal for moldable spherifications, mousses, aspics and countless recipes.

This kit also comprises Algin, to form the spherical membrane, Gluco, to provide calcium spherical bases, Xanthan gum to give density to the base without changing the taste and a variety of tools to reproduce this technique, which was implemented by elBulli team in 2003.
Become one with the sphere.  Until the hot new thing to do with foods is cubication.
[Eater]
Have a tip we should know? tips@mediaite.com