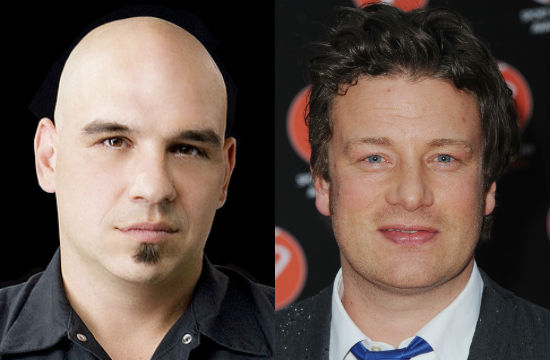 In an effort to keep the chest-beating pissing contest alive, Jamie Oliver will open the first ever Jamie's Italian/Union Jack's combo restaurant in Gatwick Airport tomorrow. Of course, the pissing contest to which we refer is his never-ending feud with British nemesis Gordon Ramsay, whose shmancy airport resto Plane Food, located in Gatwick's nemesis Heathrow, has recently been named the #3 airport restaurant in the world.
The Jamie's Italian/Union Jack's was built in a 6000 square foot space in Gatwick as part of its $1.87 billion renovation. Apparently, travelers are calling for more fine dining options in their airports (which I don't quite understand, seeing as bleary-eyed 6am travel is the only time I allow myself to consume McDonald's, form of: salty, butter Sausage McMuffin washed down with a mini-carton of OJ), and so Jamie stepped up to the plate to provide a decadent resto, which includes a floor-to-ceiling viewing gallery of the runway.
"This will be something really special. I've worked with my team to take the very best bits from Jamie's Italian and Union Jacks and build them into something beautiful and exciting just for Gatwick," said Oliver in the press release.
Meanwhile, Stateside, Michael Symon has opened up his first airport eatery in Pittsburgh International Airport. Bar Symon offers French cafe ambiance, while paying homage to Pittsburgh's history, and serving Symon's signature dishes from his Cleveland flagship Lola. So, a slight lack of direction, perhaps? But, says Michael, "Dining is all about the experience, and we've captured that with Bar Symon. I have no doubt it will quickly become a passenger favorite."
Happy travels, epicureans!
Have a tip we should know? tips@mediaite.com