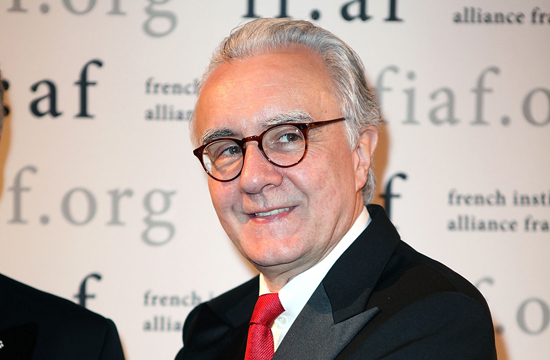 Unlike his equally multi-starred peers, whose idea of "restaurant empire expansion" entails things like "opening restaurants in whatever new country has oil money" or "creating a television show full of delusional puppeteer chefs," Alain Ducasse tends to expand by exploring kooky new concepts. What other prestigious chef with 33 freaking Michelin stars, for instance, would think about opening a Parisian food truck? Or, as he told the Wall Street Journal today, open a chocolate factory, built out of reclaimed parts and operating out of an old garage?
Given that (and the sweet thrifty vintage-ness of his specs), it's really, really cliche to pull out the old "Alain Ducasse Has Hipster Tendencies" canard…but seriously, the below excerpts will have you biting your tongue:
He renovated [La Manufacture] with exposed brick, a glass-paneled laboratory and a steel display case scavenged from the Banque de France—a reflection of the nuts-and-bolts, bean-to-bar approach Mr. Ducasse and his business partner, Nicolas Berger, bring to chocolate…

"We decided to position ourselves as excellent craftsmen, preserving the original tastes and characteristics of each bean. From countries that barely produce enough cocoa for domestic use, we managed to import a few bags that are unique. Maybe only 5% of people will like it. But we make chocolate for lovers of intense and original flavors."
However, Ducasse, who actually has years of chocolate experience (he once worked as a chocolatier in 1975 for a renowned pastry chef), knows when he's outclassed by even hipster-ier hipsters. Not only does he give a shoutout to The Mast Brothers of Brooklyn (where else?), but also points out the difference between himself and real hipsters: "They do their bean roasting in a pastry oven!" Ducasse exclaims. "It's more artisanal than us, it's almost rudimentary. It's the beginning of craftsmanship, like only the Americans are capable of doing. To start from scratch with passion—without expertise but with passion, and expertise comes from passion."
That is a good point, and probably explains why Ducasse actually knows how much sugar to (not) put in his own chocolate. "The sugar [in American chocolate] needs to be removed, little by little," he observed. Get to it, hipsters. The Hipster Master hath spoken.
[WSJ]
Have a tip we should know? tips@mediaite.com