Albert Adrià On His Own Definition of Fear: 'When You Transform It Into a Creative Element, You Get Your Dreams'
Albert Adrià On His Own Definition of Fear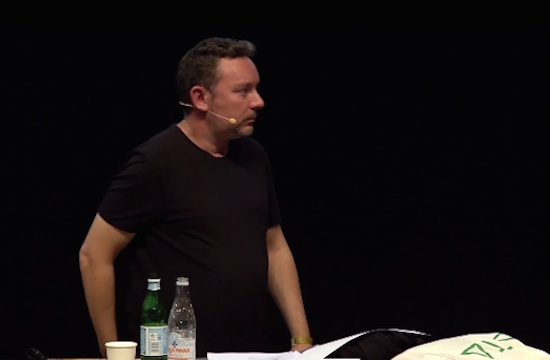 Fear is a, well, scary thing. And if anyone should be afraid, it should be Albert "the brother of him, who shall not be named" Adrià. He's a world-renowned chef, brother to Ferran Adrià (oops, we named him) with plenty of expectations and pressure riding on him. Yet in a new video released this week from MAD4, Adrià admits that fear isn't all so bad — and that young chefs should be especially afraid.
Adrià talks more about the decision to close elBulli, open a cocktail bar, 41º, another restaurant ("I wasn't content to be just a little bit afraid, so I opened a Japanese Peruvian restaurant,") and go after his dreams. What we like is that he's so humble about it, too. In the very beginning, he says:
I've got a lot of fear. I'm afraid of being the last one to speak today, I'm afraid because I don't speak English. I'm afraid because I'm not cooking in front of you; I only feel safe when I'm cooking, not when i'm talking. I'm afraid that you might not get the message I'm trying to communicate to you. But I'm especially afraid of these really awful blue pants that i'm wearing.
Best opener ever. And so he goes to show what can really happen when you chase what you fear, that "creative engine," so to speak: "When you overcome your fear and when you transform it into a creative element, you get your dreams. … you just have to believe in your dreams. … I've been doing this every day for 30 years, and I'm still alive."
He was especially encouraging to young chefs: "If you have humility and passion, you are worthy of being in the kitchen." Another MAD presentation, another motivational speech — we'll take it.
[MAD]
RELATED: Here's the Much-Talked About Chris Cosentino Mad4 Talk on the Pitfalls of Food TV
The True History of Celebrity Chefs, As Told By a Yale Professor
Should Chefs Be Agents of Social Change? Uh, Yes. Wait, No. Maybe.
Have a tip we should know? tips@mediaite.com