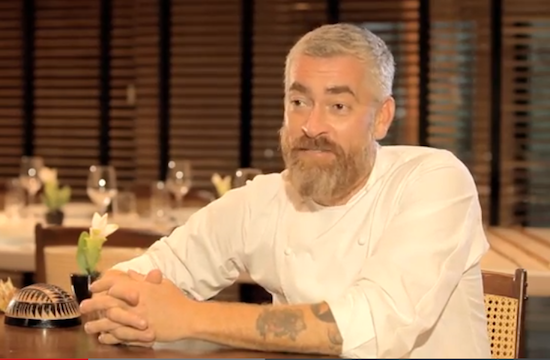 According to this New Yorker profile of Brazilian chef Alex Atala, the man is famous among two types of people. The first group: the people in the food industry who know the names of the Culinary Gods and pray to them at night. The second: every single brasileiro in Astoria, Queens.
Perhaps it is his hulking mass, his flaming beard, his spirit for adventure, that makes him stand out in a crowd. Perhaps it is the fact that he is the most famous chef in Brazil, since his restaurant, D.O.M., is one of the world's best. Or, perhaps, it's that he might just be the culinary heir to Ernest Hemingway, as seen in this recipe for Ants and Pineapple:
 The ingredient list is just two lines long: "1 pineapple, 4 saúva ants." The instructions:

1) Peel the pineapple and cut it into 4 equal cubes.

2) Place a piece of pineapple on top of a serving dish and top with an ant. Serve immediately.
 But no matter where he goes in Astoria — no matter if he's in a supermarket or standing on a sidewalk next to a man in a chicken suit — he gets the celebrity treatment from everyone:
He peered inside the corner restaurant, then took a look at the menu from the sidewalk. He was supposed to meet his wife, Marcia, and three children—their eleven-year-old twins, Tomas and Joana, and Pedro, his nineteen-year-old son from his first marriage—in the West Village and wasn't sure that he had enough time for a sit-down meal. But before he could deliberate, the chef and owner, Herbert Gomes, bounded out into the street wearing a small, paper chef's hat. "Chef!" he crowed. He couldn't believe his eyes—Atala, here, in the flesh, on Thirty-sixth Avenue! He ushered Atala inside, then ran into the kitchen and quickly returned with a plate of acaraje, a cake of mashed black-eyed peas topped with dried shrimp and fish cream, and some grilled Brazilian sausage. The patrons, mostly Brazilian, looked on, eyes raised. Atala took a bite of the sausage. "This is childhood," he said. A waiter, standing just within earshot, relaxed visibly.
(Everyone, that is, except for two confused yuppies who walk by. Of course Alex Atala wouldn't be recognized if he hasn't appeared on Top Chef yet.)
[The New Yorker]
RELATED:
Alex Atala's Secret To Success: Repetition And Discipline
Brazilian Chef Alex Atala Makes TIME 100 List
Internationally Renowned Brazilian Chef Alex Atala Dubbed 'The Most Interesting Man In The World' By David Chang
Have a tip we should know? tips@mediaite.com