Alfred Portale Talks His Upcoming Treme Cameo And Cooking For President Obama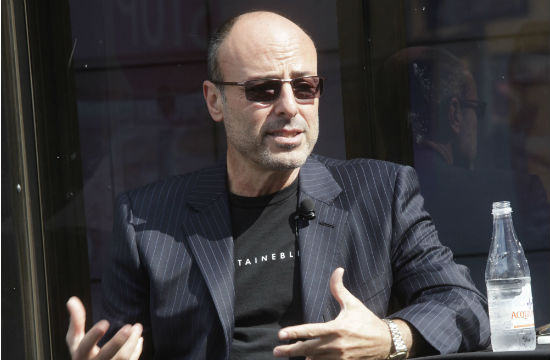 Chef Alfred Portale sat down to chat with us recently about everything from his upcoming cameo on Treme, which premieres September 23rd on HBO, to the meal he served President Obama at his resto, the iconic Gotham Bar and Grill in New York City. (You decide which is more shiny and impressive.)
Portale is pretty much the epitome of old school chef standards meeting new school celebrity chef sheen. Classically trained in France under Michelin-starred greats, Portale returned to run Gotham with great success, and even appeared on an episode of Cooking With Master Chefs with Julia Child.
But he's also kept up with the modern celeb chef circuit — he bossed around the likes of Tom Colicchio and Wylie Dufresne, who both served under him at Gotham (Colicchio for like a week, but still), made besties with today's trendiest food personalities, which obviously played a hand in landing him a role on Treme, and even judged an episode of Top Chef all the way back in 2007 (do you remember 2007? It's like now, except without Twitter).
Check out our Q&A with Chef Portale below to read all about how celebrity chefs came of age back in the good old days, and how he's managed to keep swinging with the big guys today.
The Braiser: So you're going to be featured in an episode of Treme, which premieres in September. How did you get involved with that?
Alfred Portale: There were a couple of connections. I'm an acquaintance of Tony Bourdain, and [Tom] Colicchio, and David Chang, and Wiley [Dufresne], and they're all kind of friends, and they were looking to shoot a scene in a dining room in New York — in a very high end French restaurant — and they were looking for a chef. Now, one of the assistant producers knows me. Her husband actually worked my kitchen 25 years ago. She initially contacted me and I think the production company lined it all up.
Were you familiar with the show before they asked you to do it?
I was familiar with it. I hadn't watched the whole [series], but I was contacted by the producer back in the pilot stage. They were looking to shoot a scene where some chef came in after the hurricane. I think that was the premise of the scene. Something happened and I did not get a callback, but I did watch the first several [episodes], and I like it very much, so I was quite familiar with it.
Can you tell us anything about your character arc?
Well, the episode is a dinner party. And it takes place in a New York restaurant that [the character Janette, played by Kim Dickens] worked at, and the chefs at the table are myself, Eric Ripert, David Chang, Tom Colicchio, Wiley, and then Jonathan Waxman. So we're all sitting around and the chef has prepared this extraordinary meal of classic French dishes — old-school, classic French dishes — with unbelievable wines to go with them and that's kind of how the scene plays out.
Awesome! So you had some of your celebrity chef brethren on-screen with you.
We had a great time. We had a blast. Sharing a trailer with Jonathan wasn't fun, but besides that.
You've given a lot of interviews where you talk about what the restaurant industry was like when you first started out in the '80s and how different it was, so what do you think of the idea of celebrity chefs today?
Well, I think it's great. Surely times have changed in the way that the media…the whole landscape changed the chefs, and I think its fantastic. It's simply different than in the early '80, when your outlets were either longleaf — meaning food magazines, travel magazines — or short leaf — meaning food columns in the Times, New York Magazine, and the Post. That was your outlet. I mean, I used to get on Regis and Kathy Lee and there was some TV, but the whole thing is completely different now. A lot more exposure with all the reality cooking shows and all that. It's completely changed the landscape. I think it's all great.
So you think it's a good thing? Because a lot of the chefs we talk to take issue with the term "celebrity chef".
No, I don't. I think it's great. Anything that drives what we do, and brings attention to what we do, and educates. You know, I'm in New York; we have and have had a very sophisticated clientele for years. But you get out of the big city, and it's not so much. I think it's all positive.
You've groomed a lot of chefs yourself but who's your culinary icon?
You know when I was a young cook, it was different. I looked to France to further my craft. And my mentors and my idols were three-star Michelin chefs: guys like Michel Guérard, Alain Chapel, Fredy Girardet. Those guys cooked. And then when I got over to France and ate in the restaurants and cooked for some of them — those were my mentors. Back then, you had to go and do that. Now, you don't. There are great chefs in every city in America, practically.
What restaurant served your favorite meal?
Working at Guérard's — I was there close to eight months — I think I really developed as a young cook then and I found myself relying heavily on that experience when I came to Gotham early on and started creating dishes. So it was a big influence on me.
If you could have any chef in the world cook for you, who would it be?
It would be Alain Chapel, because Chapel passed away several years ago. His restaurant was very close to where I was working in Rouen, and I had his book, and years ago was a great fan of his cooking, but never got to eat there.
If you could cook your best meal for anyone in the world, who would it be?
I got to really actually do that, about five months ago, when President Obama came to the restaurant, and we cooked for him. We were very excited. I was thrilled and honored to do so. We went to the markets, and we reached out, and we sourced all the food for his dinner. It was really a big honor and we enjoyed it very much.
That's so cool! Tell us more.
We did a set menu for them. It was just a very cool event. When we learned that we were under consideration — would we do it? Could we do it? — there was a visit by a whole team of Secret Service agents to scout out the event and determine that it was suitable. And then all the planning from there on in was so intense and so fun: we had to sign confidentiality agreements; we had to empty the restaurant hours before the dinner. Literally everybody had to leave, so we had to stop production, everything. All the stoves were shut down, all of our staff left, for two hours, while they did their security. And then one by one we were allowed in and screened. That part of it was really kind of fun and fascinating.
The dinner was really built for speed. He had a couple of other stops. He was on a very tight schedule. We did the menu essentially according to their restrictions and concerns about getting him in, fed, and out quickly. It was a fundraiser.
What aspect of being a chef is most gratifying for you?
Gotham has been around a long time and we've had lots of success. It's hard to pick just one event, but there have been many times where I felt very honored and very proud and satisfied that we were recognized, and thankful really, that I have such a great crew and great support.
Is there one food trend right now that you're completely, unequivocally over?
I think these sort of single-subject restaurants are kind of played out to some extent. I mean, a restaurant that only serves pig, for instance, I don't quite understand. Or a restaurant that just serves meatballs. I don't mean to offend anyone; I know there are a lot of meatball restaurants that are very successful. People like it. But I personally don't get it.
Season 3 of Treme premieres September 23rd on HBO. Stay tuned to catch Chef Alfred!
This interview has been edited and condensed.
Have a tip we should know? tips@mediaite.com