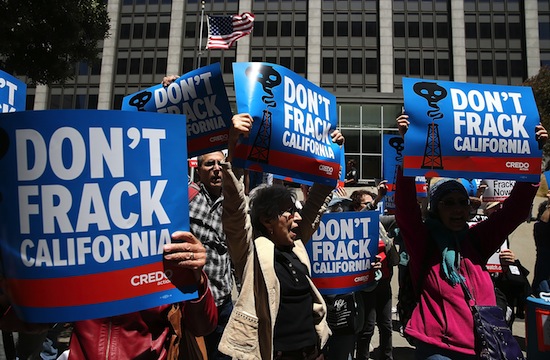 When Alice Waters wants something done, she gets it done. Leading the fight against fracking in California, the Chez Panisse chef and all-around legend has rallied her fellow chefs, restaurant owners, and winemakers to petition California Governor Jerry Brown to lay off the fracking.
In just one day, the foodie petition to issue a moratorium on fracking received 92 signatures; now, that number is well over 100. The anti-fracking protest is in response to Gov. Brown's newest bill to regulate, rather than outright oppose, the extraction of crude oil from the Monterey Shale — a big sign of trouble for fracking opponents. But the fracking fight isn't just limited to California residents and food lovers (Mario Batali is already on it, for the state of New York). The Monterey Shale is also home to the Central Valley of California, notes Think Progress, where 40 percent of the country's produce, fruit, and nuts come from.
Waters' petition (in conjunction with the Food & Water Watch) gives a passionate argument to halt fracking proponents' attempts:
"Now the Monterey Shale — a 1,750-square-mile area believed to hold as much as 15 billion barrels of crude oil and that sits beneath some of the state's most prized farmland — is being targeted for a new, more intensive form of fracking and other extreme extraction methods, putting California's scarce and precious water resources and most prized farmland at serious risk…

In states already experiencing rampant fracking operations, leaks and spills have damaged crops, killed livestock and sickened the people near drilling operations, which are commonly found in agricultural communities that grow our food."
There's some big names signed onto the petition, too: Chris Cosentino of Incanto, Gayle Pirie and John Clark of Foreign Cinema, Anthony Myint of Mission Street Food, and Joanne Weir of Copita, among others, notes SF Weekly. But of course, big oil and petroleum already lashing out at the chef-driven petition. Said one petroleum industry spokesman to the Oakland Tribune:
"There is a certain irony here because these chefs, unless they are cooking with wood, coal or hydrogen, which I'm pretty sure they are not, are using a great deal of natural gas… This country is blessed with an abundance of natural gas, and prices are at record lows because of the technology of hydraulic fracturing."
Yeah, it's your stoves that are overhauling precious farm land, contributing to climate change, and slowly killing us, chefs. That's what it is.
RELATED:
WATCH: After Chez Panisse Fire, A Tearful Alice Waters Vows To Rebuild
Last Call: Chez Panisse Begins Taking Reservations Today
Sam Sifton Wishes Alice Waters Had Been Behind @RuthBourdain
Have a tip we should know? tips@mediaite.com